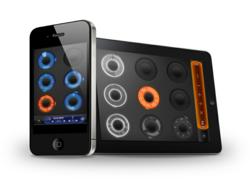 iOS truly is a platform where little companies can come along, create great products, and compete successfully against the software giants.
Alet-les-Bains, France (PRWEB) February 01, 2012
Software artisan company A Tasty Pixel's live-looping app Loopy HD has been awarded second place in the 2011 Best App Ever Awards for Best Musicians App, and received an honorable mention for Best Visual Design. Loopy HD and first-place winner NanoStudio by Blip Interactive, both developed by 'indie' one-developer companies, received more votes than Apple's GarageBand app. The competition, which attracted over 1.5 million votes this year, is run by leading iOS app review and news group 148Apps and seeks to recognize those apps most loved by the community.
"It's fantastic to see indie apps getting this kind of positive attention," said A Tasty Pixel founder and solo developer Michael Tyson. "iOS truly is a platform where little companies can come along, create great products, and compete successfully against the software giants. It's a great, exciting industry to be a part of."
Loopy HD allows anyone to create music by layering looped recordings of singing, beatboxing, or playing an instrument on a tactile interface that combines power with simplicity. A wealth of expressive features lets more advanced users take their creativity even further.
"...What sets Loopy HD apart from the pack is both the depth and breadth of its feature set as well as its sleek, easy-to-learn interface," wrote mobile review site Fierce Mobile Content recently, "It's also the rare app that's recommended for both aspiring music makers and accomplished soundscape programmers alike."
A Tasty Pixel's other travel and mapping app, The Cartographer which was awarded third place for Best Travel App in the 2010 Best App Ever Awards, has been given an honorable mention in Best Travel App and Best Navigation App this year.
Device Requirements: Loopy HD requires an iPad, iPhone 3Gs or newer, or 3rd-generation iPod Touch or newer (microphone accessory recommended) running iOS 4.0 or later.
Loopy runs on the iPod Touch, but iPod Touch users must use Loopy with a headset or external microphone, as the iPod Touch does not have an inbuilt microphone.
Pricing and Availability: Loopy, the iPhone-only version of the live looper app, is available for $2.99 exclusively through the App Store in the Music category. Loopy HD, the iPad (Universal) version of the app, is available for $7.99 through the App Store.
About A Tasty Pixel
A Tasty Pixel specializes in apps with beautiful and functional user interfaces – software that works like an extension of oneself, with the charm and elegance that make it a pleasure to use. A Tasty Pixel currently has two iOS apps available on the App Store -- The Cartographer and Loopy. A Tasty Pixel products have been extensively featured by Apple and have been awarded on several occasions by the prominent iOS industry awards, Best App Ever Awards, hosted by 148 Apps.
A Tasty Pixel can be found on Facebook and Twitter.
# # #