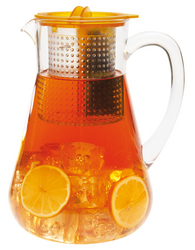 Our iced tea maker makes it very easy to make the perfect brew of iced tea
Carol Stream, IL (Vocus) August 18, 2010
Online tea shop ESP Emporium, purveyors of fine loose leaf tea, has announced the arrival of their "Brew Stop" Iced Tea maker – a revolutionary invention that offers complete control over the brewing process and the taste of iced tea.
"Our iced tea maker makes it very easy to make the perfect brew of iced tea" said Elena Popec, co-founder of ESP Emporium. "A simple turn of the lid interrupts the brewing process without compromising the taste, allowing you to stop the brewing process at any desired point and control the strength of the brew".
"This iced tea maker puts a twist on the specialty teas we offer" said Popec. "Tasting our tea served cold is a pleasantly unique way to experience flavors that our customers already love, especially so since the strength of the brew can so easily be adjusted".
The new (61 fl. Oz) iced tea maker is comprised of high-quality PC (Polycarbonate) BPA-free material, and is ideal for making up to 7 cups per brew. The stylishly-designed pot is constructed in such a manner as to allow for monitoring of the expansion of the tea leaves during the brewing process, which can be stopped at any desired point.
The iced tea maker is extremely simple to use, with the following general instructions:
1) Fill the pitcher just below the filter system with ice cubes
2) Insert the filter and add 3-5 teaspoons of loose tea
3) Pour in enough hot water to fill the entire pitcher
4) Place the lid into the filter and let the tea brew
5) Turn the lid clockwise to stop the brewing process, and enjoy!
ESP Emporium's new Ice Tea Maker (SRP $38.95) is available immediately from ESP Emporium, and qualifies for free shipping.
About ESP Emporium: The ESP Tea Emporium is an American-based, online tea shop located in the Midwestern US, which specializes in premium loose teas and tea-related accessories.
For more information about this announcement please visit ESP Emporium online (http://www.espemporium.com), or contact Steve Popec at 1-866-810-1818.
###