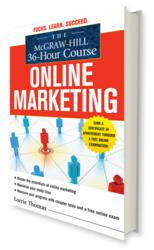 "There are no 'shoulds'—only 'coulds!'—on the Web!"
(Vocus/PRWEB) January 13, 2011
Understanding everything about online marketing is tough to tackle in this wild web world…until now. The McGraw-Hill 36-Hour Course: Online Marketing, written by web marketing guru Lorrie Thomas, guides readers through essential information for taking full advantage of everything the world wide web has to offer, including search engine optimization, social media, and mobile, viral, and content marketing. Whether you are a student, entrepreneur, or business owner, The McGraw-Hill 36-Hour Course: Online Marketing will help expand your knowledge and skill set with the very latest in tips and tools. This new book is like an entire semester's worth of wisdom, insight, and know-how on web marketing, consolidated into twelve chapters that can be consumed (and easily digested) three hours at a time.
Lorrie Thomas, CEO of a web marketing agency, professor at UC Berkeley and Santa Barbara City college and national speaker on the vast subjects of online marketing, illustrates how any kind of business can benefit from online marketing if done in a strategic and innovative way. The McGraw-Hill 36-Hour Course: Online Marketing is a comprehensive guide for anyone who wants to learn how to communicate socially on a multitude of platforms to build credibility, visibility and sellability. With Thomas' decade plus of online marketing and teaching expertise, readers learn in easy terms why online marketing is not just about using tools like blogs, social media, or e-mail, it's how the online tools are used in order to serve customers, support business goals and sell products and/or services. Thomas disseminates her positive marketing messages throughout the 36-Hour Course: i.e., "There are no 'shoulds'—only 'coulds!'—on the Web!"
"It was my goal to bring the online classroom into readers' hands in one easy-to-understand, step-by-step source", says Thomas. "Five secrets to online marketing success that I share bridge the many facets of online marketing including website design, search engine marketing, social media marketing, content marketing, blogging, SEO, email marketing, web analytics, online advertising and online public relations. What I teach also boosts multi-tasking marketing, meaning one effort multi-tasks in multiple ways to brand, build and boost business. I partnered with McGraw-Hill Professional to publish this book for many reasons – particularly their dedication to meaningful education. Not only do readers learn the must-knows of online marketing, the five steps to online marketing success, but McGraw-Hill enables readers to truly claim their education and earn a certificate of achievement through a free online examination which they provide on their website."
The McGraw-Hill 36-Hour Course: Online Marketing by Lorrie Thomas, M.A. officially launches Friday, January 14th, 2011 is available at Amazon http://www.Amazon.com, Barnes & Noble http://www.barnesandnoble.com and McGraw-Hill Publishing http://www.mhprofessional.com/.
About Lorrie Thomas, MA:
Lorrie Thomas, "The Marketing Therapist®," is a marketing strategist, educator, writer, and speaker. She launched Lorrie Thomas Web Marketing (LTWM) in 2005 to help small business owners use the web to boost their business. Thomas is now the CEO of Web Marketing Therapy, a marketing agency and online marketing education company. For more information, please visit: http://www.webmarketingtherapy.com and http://www.lorriethomas.com.
About McGraw-Hill Professional:
McGraw-Hill Professional is a leading global provider of print and electronic content and services for the business, technical, and medical communities. Its offerings include reference and certification books for all professional and educational disciplines and online solutions on business and financial, medical and health, engineering, and scientific topics. For more information, visit http://www.mhprofessional.com/. McGraw-Hill Professional is a unit of McGraw-Hill Education, a division of The McGraw-Hill Companies. Additional information is available at http://www.mcgraw-hill.com/.
# # #