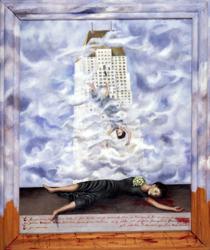 (PRWEB) March 16, 2012
The Los Angeles County Museum of Art will host a lecture by noted author and playwright, Myra Bairstow, entitled "Frida Kahlo's Portrait of Dorothy Hale: Dreams, Dramas and Revelations." The lecture will take place on Saturday, March 31, 2012 at 2 p.m., at the Bing Theatre and stems from the untold story that has unfolded during her research of Kahlo's legendary painting of Dorothy Hale, "El Suicidio de Dorothy Hale."
Bairstow will present groundbreaking revelations on Hale's life and death that were discovered while researching the Kahlo painting and its background for over a decade. Until now, the only story told about "The Suicide of Dorothy Hale" was given exclusively to Kahlo biographer Hayden Herrera by Clare Boothe Luce, who commissioned the painting. The account from Luce, reprinted throughout the world in countless books, articles and on websites that chronicle the painting, is shockingly inaccurate.
The lecture will reveal never before seen documents, letters and photos, and Bairstow will impart stunning contradictions that raise pertinent questions regarding the alleged suicide of Hale. Questions regarding the alleged suicide note received by Luce, the White House involvement by two officials of the Roosevelt Administration as well as what admissions the family of Hale reserves regarding her death.
This lecture is made possible by the support of LACMA and will be presented in conjunction with the special exhibition "In Wonderland: The Surrealist Adventures of Women Artists in Mexico and the United States" now showing through May 6, 2012. http://www.lacma.org/event/dorothy-hale
Myra Bairstow is a New York-based author, playwright and art curator. For nearly a decade, Bairstow has been researching the life and death of actress Dorothy Hale. For more information about her research and findings, visit the official Dorothy Hale web site at http://www.dorothyhale.com.