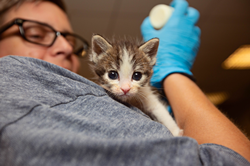 "If Los Angeles can become no-kill, any city or community can." ~ Julie Castle, CEO, Best Friends Animal Society
LOS ANGELES (PRWEB) January 17, 2019
When Best Friends Animal Society's No Kill Los Angeles (NKLA) initiative launched in 2012, the save rate at Los Angeles Animal Services was just 57 percent. In 2018, the save rate skyrocketed to 89.7 percent, just shy of the 90 percent benchmark for a community to be considered no-kill.
Best Friends has been working with LA Animal Services and more than 140 coalition partners towards the NKLA goal and 2018's results were especially impressive:

For the second year in a row, dogs were above the no kill threshold at 93.36% across the city of Los Angeles. 
Once the most at-risk population in city shelters, kittens are now at 88.24% (up from 82.27% in 2017). 
Adult cats saw a save rate increase to 83.6%, up from 77.99% in 2017. 
"NKLA is a true example of the great results that collaboration can bring in the animal welfare movement," said Julie Castle, CEO, Best Friends Animal Society. "It also serves as a model for Best Friends' mission to end the killing of shelter pets across America by 2025. If Los Angeles can become no-kill, any city or community can."
Best Friends' lifesaving efforts in Los Angeles were expanded in 2018 by increasing working cat transports and opening an additional "pop up" kitten nursery at the Mission Hills location.  
Altogether, Best Friends, LA Animal Services' New Hope partners and NKLA Coalition partners helped save 23% more adult cats, 50% more kittens, and 11% more dogs in 2018 compared to 2017.
As Castle noted, "We know we still have a lot of work to do here and we are grateful to our steering committee that has helped achieve the current milestone, including, Los Angeles Animal Services, Stray Cat Alliance, Kitten Rescue, Spay Neuter Project of Los Angeles, FixNation, Angel City Pit Bulls, Michelson Found Animals Foundation and Heaven on Earth."
"These numbers are truly cause for celebration, as it represents thousands of shelter pets who are now having positive outcomes," said Brenda Barnette, General Manager of LA Animal Services. "NKLA has been an exciting journey for everyone involved and I'm looking forward to a future where we can save even more pets."
The achievement was especially stunning in light of the ongoing TNR (Trap, Neuter, Return) injunction in place against the City of Los Angeles, which prohibits community cat programming.
"TNR and return to field programs are being embraced across California and the country with dramatic lifesaving results," Castle said. "In fact, I can't think of another municipality the size of the City of Los Angeles that has achieved no-kill without one. For us to get this close to no-kill here was like working with one arm tied behind our backs."
Best Friends, along with NKLA Coalition partners and supporters in the community, is currently looking into the review process for the injunction and exploring all available options to appeal the ruling or modify the injunction
Until then, Castle encouraged pet-loving Angelenos to continue assisting with NKLA efforts by:
Adopting their next pet  
Fostering kittens or adult pets while they wait for a home 
Spaying and neutering your pet 
Volunteering at our adoption centers or at a local shelter 
Sharing the word about helping homeless pets via social media channels
Donating funds or supplies 
"Pet homelessness is a community problem with a community solution. We need everyone's help to Save Them All," Castle said.
About Best Friends Animal Society
Best Friends Animal Society is a leading national animal welfare organization dedicated to ending the killing of dogs and cats in America's shelters. In addition to running lifesaving programs in partnership with more than 2,200 animal welfare groups across the country, Best Friends has regional centers in New York City, Los Angeles, Atlanta and Salt Lake City, and operates the nation's largest no-kill sanctuary for companion animals. Founded in 1984, Best Friends is a pioneer in the no-kill movement and has helped reduce the number of animals killed in shelters nationwide from 17 million per year to about 1.5 million. That means there are still more than 4,100 dogs and cats killed every day in shelters, just because they don't have safe places to call home. We are determined to get that number to zero by the year 2025. Working collaboratively with shelters, rescue groups, other organizations and you, we will end the killing and Save Them All. For more information, visit bestfriends.org.
To become a fan of Best Friends on Facebook, go to Facebook.com/bestfriendsanimalsociety. Follow Best Friends on Twitter (@BestFriends) and Instagram (@BestFriendsAnimalSociety).