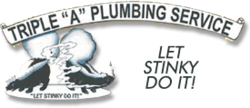 We get calls every day from people who need Los Altos trenchless sewer line replacement, the problem is that they don't usually know they need it until a video camera is placed into the sewer pipe
Los Altos, CA (PRWEB) March 29, 2013
San Jose sewer repair isn't something that any homeowner wants to deal with. With sewer lines being located underground they are usually the kind of thing most people consider to be out of sight, out of mind. Therefore the only time the sewer line gets attention is when there is a problem. "We get calls every day from people who need Los Altos trenchless sewer line replacement, the problem is that they don't usually know they need it until a video camera is placed into the sewer pipe and in inspection is performed. Our San Jose plumbers can help," says Anthony of Triple A Plumbing. According to Anthony most people simply call in with a clogged drain or a backed up toilet or bathtub.
"We get calls from people requesting San Jose drain cleaning or rooter service and we offer them a video inspection of their sewer line with our camera. Once the camera is inside the pipe the homeowner can see the damage for themselves," says Anthony. Triple A Plumbing is now offering a Los Altos plumber service discount which is applicable to sewer repair or trenchless sewer replacement. The offer expires on September 30, 2013 and includes their satisfaction guarantee.
Standard drain cleaning isn't always enough to clear a tough blockage according to Anthony. In many cases the real cause of the problem is tree roots that have grown into the sewer line over the course of many years or the pipe itself deteriorating and breaking. "Our Los Altos drain cleaning service using a standard rooter machine will drain pipes and sewer lines of debris such as grease, hair, feminine products and crud, but if there are roots growing into the line then we will have to use different equipment. If the line is broken altogether we will recommend San Jose trenchless sewer replacement, which is a process that we complete in 1 day in most cases."
Trenchless sewer replacement in Los Altos consists of 2 different methods. One method is called pipe bursting. For this trenchless pipe replacement 2 small access points are made to get to the sewer connections. A cable is fed from one end of the pipe to the other. Once the cable is strung it is used to pull a brand new sewer pipe right through the old one causing it to burst, which is where it gets its name.
The other method of San Jose trenchless sewer line replacement is call Relining or CIPP, which means Cured In Place Pipe. For this method only one access point is created to reach the sewer line. Once there is access a hydro-jetting machine is used to thoroughly clean the walls of the pipe to prepare it for having an epoxy adhered to it. Once the hydojetting is complete resin is placed on the walls of the pipe using a bladder and inflation system. Both of these methods work for repairing existing sewer lines that have gone bad.
Triple A Plumbing prefers the pipe bursting method according to Anthony, "We feel like sometimes the CIPP or Relining has a higher chance of failure because it relies on the pipe being completely clean in order for the epoxy to bond with the pipe. We feel like the most reliable method of trenchless sewer replacement in Los Altos is definitely pipe bursting."
To learn more about Triple A Plumbing or the new Los Altos trenchless sewer replacement discount please give them a call, visit their website, se their informative online videos or read their many positive consumer reviews on Google Places and Yelp.