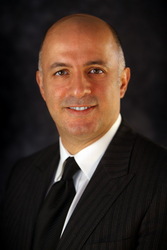 Dr. Bijan Afar, North Hollywood dentist, has a special promotion for dental implants
North Hollywood, CA (PRWEB) October 18, 2010
Dr. Bijan Afar, North Hollywood dentist, has a special promotion for dental implants. Three or more implants are available for the price of $950/each- which enables patients to have their missing teeth replaced by one of the best periodontists, at a fantastic price.
A dental implant is the best tool to replace missing teeth. An implant is a very strong and stable substitute for a tooth root and is anchored by an implant post. A crown is then attached to the post to take the place of a natural tooth.
Anyone with missing teeth knows that it can be a source of embarrassment and discomfort. The gaps left by missing teeth can cause problems with existing teeth, because gaps allow other teeth to shift positions. It's wise to take advantage of Dr. Afar's promotion and have your missing teeth replaced with stable and durable dental implants.
The North Hollywood cosmetic dentist at Dr. Afar's practice are very experienced in cosmetic procedures. Besides implants, there are a number of other techniques that can be used to cosmetically enhance your teeth. Bleaching is a popular method for whitening teeth that are stained and yellow. Porcelain veneers do an impeccable job of covering imperfections in the teeth that will otherwise detract from a person's smile. Dental bonding can build up broken teeth and also correct spacing irregularities. A porcelain crown not only strengthens a tooth that has been repaired, it also cosmetically enhances its appearance. For a full-mouth reconstruction, you can trust the Los Angeles cosmetic dentist at Dr. Afar's practice to do the best possible work for you.
When in need of any type of dental care, Dr. Afar has the experience to take care of any issue pertaining to teeth and gums. He is now offering a special promotion on dental implants in order to give all of his patients in need of replacement teeth the opportunity to get their work done at a reasonable price. He also welcomes new patients who would like to take advantage of this special offer.
Dr. Afar is a Los Angeles dentist who has been practicing for years. He and his staff of experienced dentists have the necessary skills to handle all types of dental procedures.
For more information regarding this special promotion or to make an appointment just call (818) 824-8228 or visit, http://www.BestNorthHollywoodDentist.com. You can also visit the office located at 11126 Chandler Blvd. in North Hollywood, California 91601.
Dental Internet Marketing by California SEO Company.
# # #