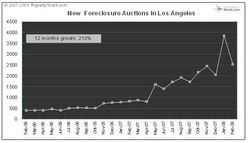 While we saw improvements compared to last month in Los Angeles, Seattle, and Miami, first time foreclosure auctions were up in all four cities when compared to the same month last year
New York City (PRWEB) March 5, 2008
PropertyShark.com, the premier real estate data site, today released its monthly report covering first-time residential foreclosures in Los Angeles, Miami, Seattle and New York City for February 2008.
Key Four-City Findings (Request report for details and charts):

Foreclosure Auctions: PropertyShark.com recorded 2527 first-time Los Angeles foreclosures, 625 in Miami-Dade County, 300 foreclosure auctions in New York City, and 144 in Seattle for February 2008.
Comparison to February 2007: Despite the improvements over last month, all regions had higher numbers of new foreclosures when compared to February 2007, ranging from a 9% increase in Seattle to 96% in Miami and 210% in Los Angeles. New York City saw an increase as well by 121%. .
Comparison to January 2008: After setting monthly records in January 2008, Los Angeles (down 35%), Miami (down 21%) and Seattle (down 18%) saw significant improvements in the number of new scheduled foreclosure auctions compared to the prior month. However, New York City set another two year high with a 13% increase over the previous month.
Foreclosures per Household: Of the four cities, Los Angeles had the highest foreclosures rate per household, 4 times higher than Seattle and over 8 times higher than New York City.
"While we saw improvements compared to last month in Los Angeles, Seattle, and Miami, first time foreclosure auctions were up in all four cities when compared to the same month last year" stated Ashleigh Rose Clark, data acquisitions manager at PropertyShark.com.
Los Angeles County

Trustee Sales: Los Angeles had 2527 trustee sales during the period, 34.6% lower than last month but 209.7% higher than February 2007.
Los Angeles Trouble Spots: The top five zip codes in Los Angeles for new scheduled trustee sales were again in the Lancaster, Palmdale, and Quartz Hill areas.
Miami-Dade County

Foreclosure Auctions: There were 625 residential foreclosure auctions scheduled in Miami-Dade County for February 2008, a decrease of 21.38% from January 2008 but 95.9% higher than February 2007.
New York City (five boroughs):

New Foreclosure Auctions: There were 300 first time foreclosures scheduled in New York City for February 2008, a 12.78% increase in new foreclosures over January 2008, and an increase of 112.8% over February 2007.
New York City Boroughs: New foreclosure auctions in Queens and Brooklyn jumped by 25% and 20% respectively compared to January 2008, with Queens reaching two year highs.
"New York City first time foreclosures reached record monthly highs since we have been tracking them, lead by 20%+ monthly increases in Queens and Brooklyn" stated Ashleigh Rose Clark, data acquisitions manager at PropertyShark.com
Seattle (King County)

Trustee Sales: For February 2008, there were 144 new residential trustee sales scheduled in Seattle (King County), an 18.18% decrease over January 2008 (176), but a 9.9% increase from February 2007
Real estate investors can browse current foreclosure listings and detailed property reports for the following areas:
Los Angeles Foreclosures
Miami Foreclosures
New York City Foreclosures
San Francisco Foreclosures
Press may request a copy of the report by contacting Brian Scully at 718.408.4985.
With over 25 million properties in twenty major markets, PropertyShark.com provides real estate professionals and investors with data and tools on all aspects of property, including building details, ownership information, recent sales prices, property values and comparable sales, sophisticated maps, listings, foreclosures and pre-foreclosures, mailing lists, photos, and more, available directly from the web. PropertyShark.com strives to level the playing field by offering independent real estate firms, investors, and savvy consumers the information transparency essential to evaluate real estate and make informed decisions. For more information go to: http://www.propertyshark.com
###