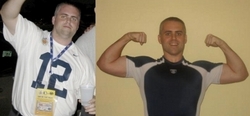 You never hear about people dying from obesity, but the sad fact is that so many diseases are affected by obesity. The morbidity associated with obesity includes chronic diseases such as diabetes, heart disease, and some cancers
Summit, NJ (PRWEB) June 2, 2009
With fatherhood comes a tremendous amount of responsibility, including the need to always be there for your partner and your children and to be a good role model. Matt Lisk was doing none of these things when, at 300 pounds, he was on a crash course with death. Now, as Father's Day approaches, Lisk hopes that overweight and obese dads do as he did by losing weight, improving their health and taking those responsibilities seriously. To help those dads, Lisk shares his plan for losing 80 pounds in 8 months and keeping it off for over 4 years in "The Burrito Diet".
According to the CDC, 112,000 deaths are associated with obesity each and every year. Lisk did not want to become another statistic.
"You never hear about people dying from obesity, but the sad fact is that so many diseases are affected by obesity. The morbidity associated with obesity includes chronic diseases such as diabetes, heart disease, and some cancers," says Lisk. "My goal in life is to raise awareness of obesity and to try to help as many people as possible to fight this deadly disease."
Like many who suffer from obesity, Lisk was in denial for years. At age 32 he found himself sitting in the emergency room, gasping for breath. "The doctor told me I had developed adult-onset asthma, high cholesterol and sleep apnea," says Lisk. "When he warned me it was time to lose weight or risk death, I was at the lowest point of my life. I made the decision right then and there to conquer my obesity so I could be there for my wife and son in the future."
Lisk took action and started dieting and exercising to lose weight and gain muscle. At first it was a constant battle with little success and many disappointments. Despite his best efforts, nothing solved his weight problem long-term. "Then suddenly," says Lisk, "it all just clicked."
Studying his own eating habits, he discovered that burritos were the perfect solution. Three burritos a day -- combined with light, healthy snacks, and protein shakes -- enabled him to lose 80 pounds in 8 months while also lowering his body fat content to an unbelievable 10 percent. He was living proof his diet worked.
Earlier this year, Lisk wrote and released "The Burrito Diet" that not only teaches you how to eat healthily, but it also provides you with a structure you can use to lose weight rapidly and safely. "The Burrito Diet" also teaches you the proper way to exercise for fat loss through a reasonable exercise regimen that will help to reduce your body fat level.
Says Lisk, "God gave me a second chance to spend my life living healthily and with my family beside me. When I think of how my obesity problem could have left my wife without a husband and my children without a father, it scares me. I don't want anyone to ever be in that position again. It's my hope that 'The Burrito Diet' will be on the top of everyone's Fathers Day gift list this year."
###