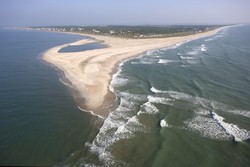 Bald Head Island, NC (Vocus) January 15, 2009
Every January, many of us resolve to change our lives for the better. Research shows that the most popular resolutions pertain to losing weight and getting in better shape in the coming year, yet a very small percentage actually achieve this goal. This year, boost your chances for success by committing to a holistic program such as the newly launched Bald Head Island Center for Wellness.
The Bald Head Island Center for Wellness is offering a week-long, full immersion Wellness Retreat, which will take place on Bald Head Island from March 14 through 21, 2009. The Center will provide day-to-day tools for healthier living that will help promote a long-term, positive lifestyle change. This holistic approach is coordinated by a wellness team, which consists of a registered dietician, lifestyle coach, personal trainer and gourmet chef. These health professionals will bring a unique approach to ensure healthy weight loss and to support and motivate participants to achieve success.
The serene setting of Bald Head Island--a car-free island located just off the coast of Southeastern North Carolina--is an ideal setting for promoting overall health and wellbeing.
The registration fee of $4,900 per person includes nutritional and behavioral workshops; three meals and two healthy snacks each day, prepared by a gourmet chef; cooking classes; individual and group exercise; yoga; meditation; massage and home rental accommodations for seven nights (private bed and bath guaranteed).
To learn more or to register, visit http://www.bhiwellness.com, or call 919-367-0677.
Bald Head Island is a second home and vacation community located just off the coast of Southport, NC. With no bridge connecting the island to the mainland, visitors take a 20-minute ferry ride across the Cape Fear. Once on island, the favored method of transport is electric cart, bicycle, or walking. To learn more about Bald Head Island, visit http://www.baldheadisland.com.
###