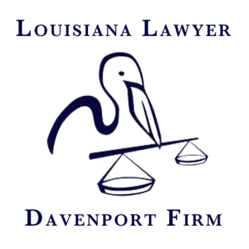 Ultimately, the goal is to help my clients move forward with their lives and not have their pasts follow them, and restore their future.
(PRWEB) February 28, 2013
Louisiana lawyer, Thomas D. Davenport Jr. of The Davenport Firm, not only helps clients fight cases in courts to defend and win cases, but also helps with the aftermath of cleaning up criminal records that can rightfully be expunged.
With recent inquiries surrounding whether or not clients should consider going through with an expungement, The Davenport Firm has released the following top 10 reasons to consider going through with an expungement:
1) Employment
In today's economy, the job market is extremely competitive. Employers often look at an applicant's complete background before hiring, including criminal history. If an applicant has any type of arrest or conviction, there is a chance they could be denied the job. An expungement can destroy any type of record of an arrest or conviction.
2) Education
Higher education is increasing in demand by many Americans; however, a criminal record could prevent a student from entering an institution of choice. Many graduate programs immediately disqualify an applicant who has any sort of criminal record. The 1998 Higher Education Act eliminates anyone with an arrest or conviction of a drug related offense from receiving any type of work assistance, student loan, or grant.
3) Loans
Trying to purchase a car or put a down payment on a home? Many people recently have found themselves in need of financial assistance, and loan agencies reserve the right to deny lending monies if a criminal record or offense is found. In addition, if an agency is skeptical of lending money, even if approved – applicants will see significantly increased interest rates.
4) Insurance Rates
Many insurance companies charge increased rates for individuals that they view as high risk. Automobile insurers take charges such as DWI and DUI seriously and often anyone arrested or convicted with these offenses are labeled high risk. Higher premiums or the possibility of being uninsurable can be expected as a result.
5) Assistance from the Government
Many Americans today rely on federal assistance such as public housing, food stamps, and childcare assistance. A conviction of any kind will often automatically make you ineligible for such programs, with some programs excluding candidates with something as simple as an arrest. An expungement destroys any record and allows applicants to gain the assistance they may need.
6) Renting or Purchasing a Home
Public housing authorities, private landlords and some real estate agencies deny services to anyone with a criminal record. Often this is due to being seen as a risk to potential neighbors and the community as a result of a past criminal history.
7) Weapon Restriction
Anyone convicted of a felony forfeits his or her right to carry a firearm. This can also affect the ability to enjoy recreational activities, such as hunting.
8) State Licensing and Certificate Loss
Many states prevent anyone with a criminal record from obtaining necessary licenses. This can range from hunting permits to job related certificates. Many professions such as nursing and other medical related professions require people to first obtain a certificate or license, which excludes anyone with a criminal record.
9) Volunteering
The ability to volunteer at certain agencies may be hindered if someone has a criminal record. Many volunteer agencies now complete a background search on all potential volunteers. This is especially true if a person wishes to volunteer at an agency with children or other vulnerable groups of society.
10) Foster Parent or Adoption
Many states have placed strict regulations regarding criminal history on individuals seeking to be a foster parent or adopt a child. Often, if there is an arrest the state will not consider placing a child in the care of someone who is considered high risk, due to a criminal record.
"I work directly with my clients to process where the individual's criminal record can be obliterated," says Davenport. "Ultimately, the goal is to help my clients move forward with their lives and not have their pasts follow them, and restore their future."
Thomas D. Davenport is a leading attorney in criminal expungements for the citizens of Louisiana. His expungement example forms and work have been recognized and published by WestLaw and LexisNexis.
About Tommy D. Davenport Jr.:
The Davenport Firm provides aggressive and effective representation tailored to the particular needs of each of their clients. They have extensive experience in personal injury, criminal defense and family law cases. Davenport's proven record of success and no nonsense approach in handling legal matters makes this firm the firm for all your legal needs. For more information, please visit: http://www.davenportfirm.com/