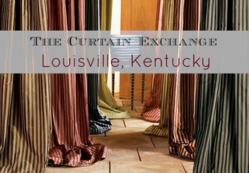 Anyone who knows my mother understands that she is my biggest inspiration.
Louisville, KY (PRWEB) April 18, 2013
On April 15th Amanda Tyler, the owner of luxury drapery store known as The Curtain Exchange of Louisville, was featured in Style Blueprint's "FACES of Louisville." Tyler was interviewed across a spectrum of categories, from drapery inspirations to balancing her work and personal life. In the article, Tyler reveals that she opened the store in April 2007 after realizing her passion for window treatments while decorating her home. Tyler also expresses her love for writing, theatre, and her dog, Peter The Greeter (or "Pete").
"I'll never forget the thrill of my first customer," quotes Tyler. "She didn't speak English. She did, however, understand the quality of what she was seeing." Tyler discusses with the interviewer some important life lessons she learned along the way to becoming a successful store owner, and credits her mentors for helping her get to this point in her life. "Anyone who knows my mother understands that she is my biggest inspiration. […] She has never lost her faith."
The full article about Amanda Tyler of The Curtain Exchange of Louisville can be found online at StyleBlueprint.com. Style Blueprint is an online publication that receives an average of 31,274 online visitors every month and covers Fashion, Food and Entertaining, Happenings, Health and Beauty, Home and Décor, and Lifestyle.
The Curtain Exchange offers custom luxury drapes and ready-made designer drapery and window treatments in Louisville, Kentucky. In addition to a constantly updated line of fabrics that may be selected from to create custom draperies, The Curtain Exchange also carries a distinctive selection of ready-made curtain styles and offers drapery hardware and installation. The store's in-house consultants are happy to work with guests in-store or at home, and customers are encouraged to take advantage of The Curtain Exchange's 48-hour take home approval process. All of The Curtain Exchange's draperies are made in the USA. For more information or to schedule an in-home consultation, please visit http://www.thecurtainexchange.com.