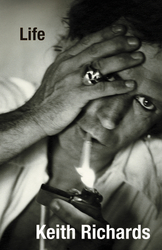 New York, NY (PRWEB) November 1, 2010
Described as "the definitive rock autobiography," Keith Richards' new book, LIFE, covers his early days listening obsessively to Chuck Berry and Muddy Waters records, his meteoric rise to fame with The Rolling Stones, and the rock star lifestyle that made him infamous. It also chronicles how he created the revolutionary, high-octane riffs that defined songs like "Gimme Shelter" and "Honky Tonk Woman."
The relationship between Keith Richards and Louis Vuitton began in 2008, when the legendary guitarist, songwriter, and founding member of The Rolling Stones, became the latest exceptional personality to be featured in Louis Vuitton's global core values advertising campaign. Photographed by renowned photographer Annie Leibovitz, Keith Richards was pictured cradling his guitar in a hotel room. The tagline simply stated: "Some journeys cannot be put into words. New York. 3 am. Blues in C." Restating the fundamental and defining value of Louis Vuitton, the core values campaign serves to reinterpret travel as a personal journey, a process of self-discovery.
Of Keith Richards – who had never before participated in an advertising campaign of any sort, Antoine Arnault, Head of Communications for Louis Vuitton, said, "He is a global icon, an inspiration to millions. It is hard to imagine a more compelling embodiment of a personal, emotional journey."
"Louis Vuitton is honoured to call Keith Richards a friend," said Geoffroy van Raemdonk, Acting President of Louis Vuitton North America, "and to celebrate his incredible journey through life as written in his own words."
LIFE, written by Keith Richards and James Fox, will be available at http://www.louisvuitton.com, as well as the following Louis Vuitton locations: Fifth Avenue (NYC), Rodeo Drive (LA), Bal Harbour (Miami), Union Square (San Francisco), and City Center (Las Vegas).
###