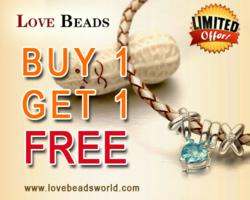 Be prepared, because I am going to gush wow! I got my first order from Love Beads today! I am absolutely thrilled! The bracelet is gorgeous! Each bead I selected was exactly like the pictures that are shown. All gorgeous!
-Tracey, a lovebeads customer
London,UK (PRWEB) July 04, 2012
The internationally renowned bead company Love Beads 2011 has relaunched their site under the new name Love Beads World, and now located at http://www.lovebeadsworld.com.
To celebrate the launch of their new website, they are offering a special "buy 1 get 1 FREE" limited-time only deal to customers: customers only need to pay for one bead to get an extra bead free.
The new website is completely upgraded and has exciting new features, including the ability to custom design jewelry online. Customers can now use the new online design system to create their own custom charm bracelet. This allows them to select an endless variety of beads from the website, string them together online into a unique jewelry arrangement, and preview it before ordering.
They promise 365-day full refund and exchange service as well as the both way free shipping worldwide without question asked.
The new "love beads" site offers even more variety, as the creators of the site continually add to one of the worlds' largest online selections of beads, including birthstones, Swarovski crystals, charms of every style and era, Olympic charms, national flag charm beads, charm bracelets, earrings, bracelets, necklaces, individual beads and charms, and many more items.
Love Beads World will continue to offer regular product promotions and sales throughout the year, which can be found on their website or on their Facebook page. Their facebook page has more than 28,000 fans and is continually growing.
"We encourage customers to check in on the Facebook Page often, because we're always uploading new pictures to our photo gallery, and we always like to reward our loyal customers with special deals to make our products even more affordable," Steven said. The new website also offers customers the ability to chat live with customer service representatives.