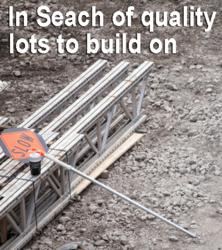 In order for the housing industry to expand its production to meet emerging demand, there must be Vacant Developed Lots available in each market. Just having lots on the ground is not enough. ~ Mike Castleman, Metrostudy CEO
Minneapolis, Minnesota (PRWEB) November 15, 2012
The latest MetroSutdy report reveals that the home builders that will perform the best in 2013 and 2014 are the ones with access to an adequate supply of quality lots. Today, most builders lack the inventory of quality lots needed to sustain the current growth pace and demand for new construction. Builders need quality lots to purchase.
A quality lot means includes three things: location, price and available. "In order for the housing industry to expand its production to meet emerging demand, there must be Vacant Developed Lots available in each market. Just having lots on the ground is not enough. Each lot must meet certain quality standards such as an appropriate location, a price that is suitable for the market, and it must be available for purchase by a builder." ~ Mike Castleman, Metrostudy CEO
"Simple put, builders cannot build without a lot", says Butch Sprenger owner of Destiny Homes. It is not hard to predict which home builders will be the housing industry leaders in 2013 and 2014; it will be the ones who can gain an adequate supply of quality lots. "Today, most builders lack the inventory needed to sustain the current growth pace," concludes the latest latest MetroSutdy report.
The most recent quarterly study was completed between October 1 and October 15 of this year, and after inspecting more than 4 million subdivision lots, in over 40,000 subdivisions, in the primary housing markets in 19 states.
Today's housing report from MetroSutdy pointed out that the August 16th prediction of fewer quality lots in existence for home builders to build on has come true. "Finished Vacant New Home Inventory has declined steadily to a point where the aggregate number has fallen to 2.2 Months of Supply, which is below equilibrium. Last quarter's report released August 16, stated, "there is less that a two year supply of vacant lots that are suitable for construction of homes in the markets they serve."
This lack of supply increases the pressure on builders to increase prices and to start more homes, which means buying more lots. Unfortunately the home building industry has consistently delivered only about 100,000 new developed lots per year for the last 4 years, and this lot delivery pace is not supplying the new lot count needed to meet demand in 2013 and 2014, states the report.
In the Minneapolis housing market, two key reasons stand out as to why there there is an increased demand for new construction.
1) As builders liquidated their excess Finished Vacant Housing Inventory, that was left over from the bubble in 2007 & 2008, there was no need to build houses, so housing production was artificially low. Once this excess inventory was sold, builders had to "ramp up" production, just to meet the extremely low demand in 2011.
2) The second issue is a tremendous amount of pent-up demand in the rental market. This demand has been accumulating for 5 years. Now that home prices are beginning to rise, some of that pent-up demand in beginning to migrate back into the need for single family homes.
Minneapolis procedures for buying a lot to build a residential home has clear guidelines for purchasing properties Home Builders are under pressure to have all financing lined up for a chance to be the one behind a pending offer. "Our lot list includes the address of the property, lot dimensions and selling price. Prices are determined by appraisals and are not negotiable. Payment for lots must be in cash at the time of closing. A ten percent (10%) good faith deposit is collected at the time the redevelopment contract is signed unless otherwise specified. The good faith deposit will be returned to you upon completion of the development, and the issuance of Completion Certificate and Release of Forfeiture. Those lots marked "Offer Pending" are not available. Offers for lots marked 'Offer Pending' will not be accepted."
Real estate forums have been a buzz with the low inventory drama. Under the heading of "What is going on with Lack of Inventory and Housing Prices in the Current Market?," Andrew Jones left comment of the biggerpockets.com forum that sums it up quite simple and accurately, "No inventory and a lot of competition."
If you are looking to build a new home in the Minneapolis or St Paul real estate communities, Destiny Homes can help you purchase the lot you will need for starts. Call 952-934-5706.