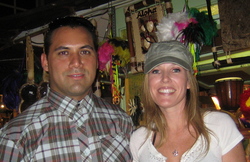 We're so thankful for this opportunity that you have given us with the Low-Stim IVF treatment. This is such a blessing in our lives and we're so excited to start this journey. We're truly grateful to Dr. Diaz & the entire staff at West Coast Fertility!
Orange County, CA (PRWEB) June 16, 2010
David Diaz, MD, Medical Director of West Coast Fertility Centers, asked couples struggling with infertility to submit a Mother's Day essay on "Why is Becoming a Mother So Important to You?" as a tribute to moms everywhere. The winning author of the essay receives a complimentary Low Cost/Low Stim IVF™. Many beautiful and touching entries were received by the Center from aspiring couples hoping that theirs would be the winning essay.
Jennifer and Christopher Mirelez have been trying to start their family while keeping their careers on track. Dr. Diaz and the professionals at West Coast Fertility Centers were delighted to help the young couple. The Center will donate the medical and laboratory aspects of the couple's IVF procedure, Dr. Doug Han is donating anesthesia services and our corporate partner, Schering - Plough, donated the fertility medications.
Jennifer will undergo ovarian stimulation with fertility enhancing medicines and when her eggs are mature, they will be harvested in the embryology lab and will be inseminated with ICSI. They plan to transfer 2 embryos and freeze remaining good quality surplus embryos free for one year.
A resident of Santa Ana and an occupational therapist, Jennifer, is thrilled about undergoing her IVF cycle in July, 2010 and the couple is anxious to share their story to give hope and inspiration to other couples.
The lucky couple will prepare for their treatment by synchronizing the ovaries in preparation for stimulation using West Coast Fertility Center's new Low-Stim/Low Cost IVF™. The new treatment protocol makes IVF is more affordable and less complicated for patients struggling with infertility. To date, the treatment has yielded a 70% pregnancy rate by transferring just 2 embryos thus helping to minimize risks of multiple births. Good candidates for the treatment are women less than 35 years with, normal ovarian testing and good ovarian reserve.
West Coast Fertility Centers, now celebrating their 21st anniversary, is one of the most established and innovative fertility centers in the nation. Their high IVF success rates have consistently ranked among the highest anywhere. Their landmark egg freezing Landa Technology has resulted in the birth of more healthy live babies from frozen eggs than any other program in the nation. http://www.EggFreezing.com The Centers also specialize in genetic screening of embryos to rule out chromosomal and genetic defects. More than 3,500 babies have been born since the inception of the program in 1988.
Dr. David Diaz is available to provide medical and technical information about the new "Low Stim/Low Cost IVF™" treatment at West Coast Fertility Centers.
Jennifer Mirelez is available to discuss her infertility journey and her thoughts about being selected as the winner of the Mother's Day essay contest.
Website: ivfbaby.com
Contact Number: (714) 513-1399
###