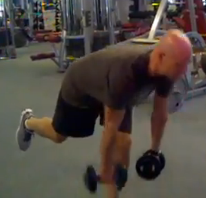 Atlanta, GA (PRWEB) March 14, 2013
As springtime comes close, bodyweight programs that can be done anywhere are becoming more popular. This is especially true since there is so much traveling this time of year. But bodyweight workout programs can get really boring, but according to Mike Whitfield, a bodyweight expert who wrote the brand new bodyweight circuit workout called "Bodyweight Torch", they don't have to be. Whitfield, a bodyweight exercise enthusiast who has lost over 100 pounds himself revealed a video to his subscribers explaining the single leg deadlift exercise.
"The single leg deadlift is one of the best lower body bodyweight exercises I've ever used with people both online and offline to get great results. This exercise works the lower body, but also works the core and improves core stability. It's also a great way to increase someone's hamstring strength, too. Too many bodyweight programs neglect the back of the legs, but an exercise like the single leg deadlift will improve that. It takes some balance and coordination, but with practice, anyone can implement this lower bodyweight exercise into their program to help them lose weight and improve balance and coordination. I personally use the best bodyweight exercises like this with many of the bodyweight conditioning circuits I've developed for many online and offline programs. It's more challenging than other bodyweight exercises, but that is what makes anyone's bodyweight workout program exciting. Bodyweight workouts don't have to be boring, especially when someone adds unique bodyweight exercises like the single leg deadlift. Since it is so tricky, I decided to release a video explaining this awesome bodyweight exercise. We've been getting great feedback on our videos from our Bodyweight Torch subscribers", said Whitfield.
Discover the single leg deadlift and other unique bodyweight exercises inside the new free download Bodyweight Torch program at http://www.bodyweighttorch.com.