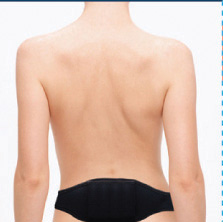 Dr. Allen's therapeutic devices provide effective back pain relief naturally without medications, surgeries or any kind of brainwashing.
London, UK (PRWEB) November 20, 2012
A recent study in The Journal of Neuroscience sheds light on the age-old mystery of why opioid analgesics gradually lose their effectiveness, as researchers at the University of Montreal have recently identified how neural cells build up resistance to opioids, an effect that causes patients to require stronger doses of the drugs over time; however, neither that nor cognitive therapy actually help to erase back pain for good, whereas Dr. Allen's devices relieve back pain without medications by improving blood circulation in the affected area, Fine Treatment reveals.
The New York Times has raised a discussion about back pain. 'How Back Pain Turned Deadly' article of 18 November 2012 states spinal injections, which can cost between $600 and $2,500, including the fees for treatment rooms, can lead to death and paralyzes, so from now on when doctors and patients are tempted to say "what's the harm in trying an injection" to dispense with a nagging back — they will be more aware of just how big the risk can be.
Pain treatment in America has been failing, and physicians remain unable to manage it effectively. Yet, the medical cost of this failure is approximately $280 billion per year. Providers of medical services and products are making billions of dollars while people with pain continue to suffer, states M. Collen in "A Message for People with Chronic Pain', October 25, 2012.
The absence of useful lower back pain treatment has led to the creation of cognitive behavioural treatment (CBT) which is a form of psychological therapy, as defined by the National Institutes of Health (NIH). Some people term it simply "brainwashing". It usually involves 10 - 20 meetings with a therapist. CBT can help people to cope with chronic back pain but it doesn't treat the pain itself.
Unlike opioid analgesics, CBT or spinal injections, Dr. Allen's Devices provide tangible lower back pain relief. Dr. Saint-Phard, from Lincoln Medical and Mental Health Center, says "Lower back pain treatment and relief without surgery can be a reality with the Thermobalancing therapy. Forget the surgery that will leave your bank account empty, or the painkillers that you will have to absorb for the rest of your life." Dr Allen's revolutionary device works well not only in cases of accident-related sciatica but also eases the pain related to age. Hubert, 82, one of the many satisfied users of the Thermobalancing device, shares: "This product will change your life."
Watch the video on how easy it is to treat lower back pain with Dr. Allen's device at home: http://www.youtube.com/watch?v=kNqPVtqdSRo.
"The Thermobalancing therapy relieves lower back pain within days and works on the chronic nature of related conditions successfully over time," says Dr. Simon Allen. "Dr. Allen's therapeutic devices provide effective back pain relief naturally without medications, surgeries or any kind of brainwashing."
For more information please visit the Fine Treatment website: http://finetreatment.com/lower-back-pain-treatment-lumbago-relief/.
About Dr. Simon Allen and Fine Treatment:
Dr. Simon Allen is a highly experienced medical professional. His specialty is in the internal medicine and cardio-vascular field. He has treated a wide range of chronic diseases, including patients after a heart attack, with kidneys problems, including kidney stones disease, prostate and spine conditions. Fine Treatment exclusively offers Dr Allen's devices for http prostate treatment: chronic prostatitis and BPH, coronary heart disease, dissolving kidney stones, as well as for back pain and sciatica relief.