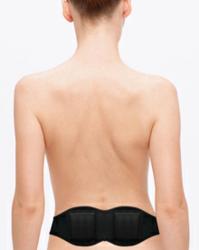 Dr. Allen's therapeutic devices provide an advanced natural treatment for lower back pain and prostate diseases without harmful drugs and surgeries.
London, UK (PRWEB) June 11, 2012
News on the Thermobalancing Therapy relieving sciatica and lower back pain as well as reversing benign prostatic hyperplasia (BPH) and easing prostatitis is coming out soon on CNBC featuring in 21st Century Health TV series, reports Fine Treatment. This natural therapy can treat different chronic internal diseases. It is designed on the basis of Dr. Simon Allen's research findings, namely The Origin of Diseases. Dr. Allen demonstrates that, while the diseases of different organs vary, they all have the same root. You can watch a video where Dr. Simon Allen and Ariana Adjani discuss the benefits of new therapeutic devices: http://www.youtube.com/watch?v=EvlrxBz790A.
Conventional treatments of back pain and prostate diseases are based on drugs and surgeries that often develop serious side effects and complications.
In cases of back pain, according to the National Institute of Health (NIH), effective pain relief may involve a combination of prescription drugs and over-the-counter remedies. However, certain medicines, even those sold over the counter, are unsafe during pregnancy, may conflict with other medications, may cause side effects including drowsiness, or may lead to liver damage. Regarding lower back surgeries, the NIH reports: "Since invasive back surgery is not always successful, it should be performed only in patients with progressive neurologic disease or damage to the peripheral nerves."
As for prostate diseases, the American Urological Association notes that men have to take BPH drugs for years and can develop dizziness upon standing, vertigo and ejaculation disorders, ejaculatory abnormalities and erectile dysfunction. According to the Bladder and Bowel Foundation, although effective in relieving symptoms of an enlarged prostate, transurethral resection of the prostate (TURP) can cause complications, leading to retrograde ejaculation, difficulties with erection, and a higher risk of urinary incontinence and urethra strictures.
The side effects and complications can be avoided by simply using the natural Dr. Allen's devices that work 24 hours a day while applied to the body.
"The lower back pain relief and prostate treatment with the new Thermobalancing therapy help people to enjoy their lives again," says Dr. Simon Allen. "Dr. Allen's therapeutic devices provide an advanced natural treatment for lower back pain and prostate diseases without harmful drugs and surgeries."
For more information, please visit the Fine Treatment website: http://www.finetreatment.co.uk/prostatetreatmentbph/prostatitistreatment.html.
About Dr. Simon Allen and Fine Treatment:
Dr. Allen is a highly experienced medical professional. His specialty is in the internal medicine and cardio-vascular field. He has worked on a broad range of chronic diseases treating patients after a heart attack, with kidney problems, including kidney stones disease, prostate and spine conditions, as well as digestive and metabolic disorders. Fine Treatment exclusively offers Dr Allen's devices for chronic prostatitis and BPH, coronary heart disease, for dissolving kidney stones, as well as back pain and sciatica relief.