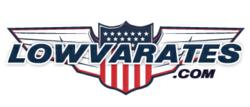 LowVARates is constantly looking for ways to give back to military families and the military college scholarship program is a great way for us to help out.
Salt Lake City, UT (PRWEB) September 17, 2012
An aspiring educator received a $2,500 college scholarship to help further her education and reach her goal of working in a special education department.
The 2012 LowVARates.com $2,500 fall college scholarship was awarded to Ninette Fowler of Aurora, IL. She recently applied for the scholarship and met all the required information to receive the financial assistance.
Fowler currently juggles many responsibilities and spends her packed days as a mother, student and working professional.
"I have been blessed with a great supportive family. While I am in school, my parents, mother and father-in-law have provided a lot of help," Fowler said.
Fowler has been married to her husband, Michael, for a little over four years and has three children. The children include: 8-year-old son, Logan, 6-year-old son, Austin, and a 4-year-old daughter, London. Michael is currently attending school as well and majoring in Graphic Design.
Fowler is currently working as a paraprofessional at a local Illinois middle school and works close to 40 hours per week. In her spare time, she is attending school at Aurora University and taking care of her three children.
"I became a paraprofessional at the school I currently work for and fell in love with education," Fowler said. "My dream is to one day be an administrator or coordinator at a school and be in charge of the process of picking out curriculum and running a special education department."
Down the road Fowler also has dreams of running her own special education department in her Aurora community. She feels every child deserves a place where they feel safe and can enjoy fun activities.
With a hectic schedule, Fowler seamlessly manages all of her responsibilities with a smile and a simple strategy.
"My advice to any mother in a similar situation is, scheduling, scheduling, scheduling!," Fowler said. "I try to give my family all my attention when I get home from work and usually study after my children are asleep. Family always comes first."
The annual LowVARates.com military scholarship is awarded to a college student with a U.S. military background or affiliation. Fowler's father is a retired Vietnam U.S. Army veteran, her brother is currently active duty in the U.S. Army and her sister is a former member of the National Guard.
Owner of LowVARates.com, Eric Kandell, decided a college scholarship assisting students related to the military would be a great opportunity to give back to military families nationwide.
"We are thrilled that Ninette is the winner of the fall 2012 military college scholarship," Kandell said. "LowVARates is constantly looking for ways to give back to military families and the military college scholarship program is a great way for us to help out."
Fowler is currently studying to receive her Master's Degree in Special Education and plans to spend the rest of her career in the education field.
The $2,500 will help cover the cost of the 2012 fall Semester for Fowler at Aurora University. Any additional funds will be applied to the 2012-2013 winter semester at Aurora University.
To apply for the 2013 LowVARates.com Military Scholarship, please visit: http://www.lowvarates.com/2012-military-college-scholarship
ABOUT LOWVARATES.COM
Low VA Rates, a division of Flagship Financial Group LLC, is a leading national VA Lender. Low VA Rates is passionate about our Veterans and Military home owners and goes to great lengths to ensure their needs are met. Low VA Rates will find the best possible VA loan program for you.
The face of the mortgage and housing markets has forever changed in the past few years and many inexperienced banks, brokers and lenders are jumping on the VA home loan bandwagon. LowVARates has been doing VA loans for the past 10 years and has years of experience in buyers and sellers markets. Our experienced VA loan officers comprise 4 of the top 10 VA loan officers according to the 2012 Scotsman's Guide.