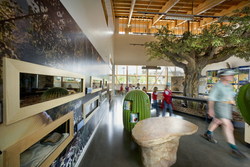 LPA is honored to win the Shirley Cooper award for the ENC ... We believe award programs like these are particularly important as the jury is comprised not only of architects but School Superintendents and Administrators as well
Irvine, Calif. (Vocus) December 16, 2008
In conjunction with the American Institute of Architects (AIA) and the Council of Educational Facility Planners International, the American Association of School Administrators (AASA) presents California-based LPA Inc. with the 2009 Shirley Cooper Award for design of the Environmental Nature Center in Newport Beach, Calif.
"LPA is honored to win the Shirley Cooper award for the ENC ... We believe award programs like these are particularly important as the jury is comprised not only of architects but School Superintendents and Administrators as well," comments LPA President Dan Heinfeld. "These individuals understand the importance of creating excellent learning environments for their students."
The ENC is a non-profit organization that provides its students with quality education through hands-on experiences with nature. The new building and learning center is a net-zero facility that experiences a 95 percent savings in energy costs through the use of their Photovoltaic solar panels. Earlier this year, the environmentally sustainable design of the ENC also earned it a LEED Platinum status from the U.S. Green Building Council -- the highest achievable rating.
"Simple green strategies, such as operable windows, building orientation and building forms work together to allow the spaces to be naturally conditioned, eliminating the need for heating and cooling systems," said the Jury. "The ENC is a great example of the complexities of site, environment and building that come together in a powerful yet simple way to provide a rich experience in learning."
The award is named after Shirley Cooper, a past AASA member and the originator of the first AASA architectural exhibit in 1949. Annual awards are given to projects that best meet the educational needs of their students.
Marco Antonio Firebaugh High School in Lynwood, Calif., another LPA-designed learning incubator, won a 2009 Citation Award from the AASA as well. Sustainable features abound here with skylights, displacement ventilation, exposed interior and exterior finishes, and preserved open space. Locally manufactured materials were chosen to reduce carbon emissions.
"We accept these awards on behalf of our clients, who share our passion for creating sustainable learning environments that enrich the lives of those who use them," finishes Heinfeld.
HIGHER EDUCATION AWARD
The American School & University released its 2009 Architectural Portfolio which highlights two LPA projects as winners. The Cuyamaca Community College Student Center in El Cajon, Calif., and the California State University San Bernardino (CSUSB) College of Education Building in San Bernardino, Calif.
"This (Cuyamaca Community College Student) center is the heart of campus, and has a sense of entry and engagement to the site," said the Jury. They also applauded the thoughtful articulation of water and response to sunlight.
TOP WORK PLACE AWARD
The Orange County Register announced the Top Work Places for 2008 and LPA ranked No. 8 in the Medium Business category (101-499 U.S. employees). More than 23,000 employees responded to the workplace survey conducted by WorkplaceDynamics LLC and 141 companies participated in total.
For more information, visit http://www.LPAinc.com.
For interview opportunities contact:
Rochelle Veturis
LPA, Inc.
5161 California Ave., Suite 100
Irvine, CA 92617
(949) 701-4148
About LPA Inc.
LPA provides services in architecture, engineering, interior design, landscape architecture, planning, signage and graphics. With more LEED-certified buildings than any other firm in the state, LPA houses the top sustainable design experts in both Northern and Southern California. With extensive experience in public and private architecture, LPA designs a diversity of facilities that span from K-12 schools, colleges and universities, to civic and corporate establishments. Founded in 1965, LPA has more than 260 employees with offices in Irvine and Roseville, Calif.
About AASA
The American Association of School Administrators, founded in 1865, is the professional organization for more than 13,000 educational leaders across the United States. AASA members range from chief executive officers, superintendents and senior level school administrators to cabinet members, professors and aspiring school system leaders.
###