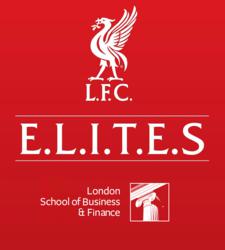 (PRWEB UK) 11 March 2013
For the first time a top-flight club and a prestigious business school join forces to launch an educational institution, developing students through classroom theory and football.
The collaboration between Liverpool FC and the London School of Business & Finance (LSBF) will see tailored programmes in sports management and leadership delivered worldwide through the new E.L.I.T.E.S institution (Education and Learning Initiative Training Entrepreneurs in Sport).
"We're extremely proud to have entered this partnership with Liverpool FC. Both LSBF and the Club have put a lot of effort into the development of the programmes, which are unique to the market.
"At LSBF, we're driven by innovation and excellence, this collaboration is an example of our commitment to deliver exclusive programmes," said Aaron Etingen, Founder and Executive Chairman of LSBF.
The Management and Leadership course will be the first E.L.I.T.E.S programme to be launched, developing skills such as team building, motivation and strategic management. The five-day continuous professional development (CPD) course will be split with half of each day in the classroom with LSBF lecturers and the other half with LFC coaches. Together, they will consider through industry leading management theory, practical sessions and seminars, the fascinating transferable skills between the business and sporting worlds. Participants will also enjoy guest lecturing from industry experts.
"Football develops many transferable skills, including team work, leadership and management through change. The Management and Leadership course offers participants the chance to enhance these skills using football as a tool to learn," commented Billy Hogan, Chief Commercial Officer at Liverpool FC.
The course, which is aimed at professionals looking to build on their skills, will kick-off at the Liverpool FC Academy in Kirkby (UK) on Monday 3rd June. The programme will then travel across the world, taking this unique package to new territories and giving thousands more the opportunity to take part.
Hogan added: "We are delighted to be part of this groundbreaking venture, using football to educate and help develop life skills. E.L.I.T.E.S is a great way to offer exclusive programmes to people across the globe, enabling participants to benefit from courses in their home countries".
To sign up or obtain more information on the Management and Leadership programme visit: http://www.lfcelites.com
Additional programmes and qualifications are currently in development. Details will be announced later this year.
For more information contact:
Liverpool FC PR Office
Tel: +44 151 432 5686, Email: pr(at)liverpoolfc(dot)tv
LSBF Media Relations Team
Tel: +44 203 535 1294, Email: news(at)lsbf(dot)org(dot)uk
Notes to Editors:
Liverpool Football Club

Founded in 1892, Liverpool FC is one of the world's most historic and famous football clubs having won 18 League Titles, seven FA Cups, eight League Cups, five European Cups, three UEFA Cups, three European Super Cups and 15 Charity Shields
As a socially responsible business, Liverpool FC is proud of its heritage and plays a proactive role in its communities managing over 20 projects all-year round in education, social inclusion, health and sports development. Its contribution was recognised by the award of a Community Mark from Business In The Community
Liverpool FC is a global brand and works with leading edge commercial partners around the world providing unparalleled commercial opportunities
London School of Business & Finance (LSBF)
Under the Royal patronage of Prince Michael of Kent, London School of Business and Finance (LSBF) is a fast-growing global institution delivering undergraduate, postgraduate and professional programmes to students and executives worldwide.
With over 25,000 students, LSBF attracts the most talented and ambitious candidates from more than 150 nations, working alongside its corporate partners to develop programmes structured with an up-to-date and international perspective.
Being the first to combine key professional and academic qualifications into a single, bespoke programme, LSBF has seen great expansion and development over the last 10 years, opening campuses in the UK, Singapore and Canada and Regional offices in over ten different cities around the world. With a presence that spans across the globe, LSBF truly is the world's business school.