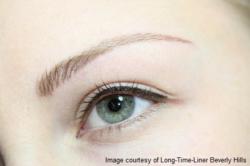 It's about being fresh, youthful, and invigorating.
Beverly Hills, CA (PRWEB) March 20, 2013
After months of weary winter weather, Long-Time-Liner Beverly Hills' semi permanent make-up specialists now notice a new make-up trend for Spring 2013.
"It's about being fresh, youthful, and invigorating." Shares Master Linergist, Michelle Park, as she explains more of the look. Full, neat brows, delicately lined eyes, and a bright lip are popular with the citizens that walk through Beverly Hills' chic streets. Although the look itself sounds simple, for a busy woman on the go, it can be time-consuming, especially for those with sparse eyebrows or shaky hands.
The salon, located at North Bedford Drive in Beverly Hills, where the world's prestigious cosmetic surgeons practice their work, says that is where they can help. As the highest quality provider in permanent make-up, Long-Time-Liner Beverly Hills offers a variety of sem permanent make-up services to help achieve clients' natural beauty.
Hannah Smith, one of the technicians at the Beverly Hills salon, says, "We don't go too strong here. It's natural; we only enhance features to make them your own. We're not changing you into someone else." Long-Time-Liner has been providing semi permanent make-up services for over 25 years, with esteemed technicians all around the globe. Their Beverly Hills location is now reaching their 3 years in serving the posh community.
Collaborating with doctors, Long-Time-Liner Beverly Hills offers a wide range of cosmetic pigmentation services as well as medical camouflage pigmentation for masking scars and skin disorders, with results that are incomparable.
Long-Time-Liner is located in Beverly Hills California, at the heart of the beauty and luxury product center. There have been many beautiful and satisfied customers from all age groups, nationalities, all matching their own personal style. Semi Permanent Conture® Make-up can make a significant improvement to anyone's beauty. They offer make-up consultations with removable make-up pencil, and new clients can literally see the difference at the end.
More information can be found via their website, Facebook, and Twitter.