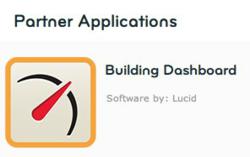 Lucid's Building Dashboard represents building data in a meaningful and intuitive way for owners to manage their facilities.
Oakland, CA (PRWEB) November 07, 2012
Lucid's Building Dashboard® is among the first building energy management apps launched on the Panoptix® building efficiency platform. By making Lucid's advanced, real-time energy display technology available to its commercial customers, Johnson Controls is enabling them to put proven, energy-saving tools compatible with its energy-management products in the hands of building owners and managers.
Using the Panoptix API, Lucid taps into the real-time data feed from Panoptix to transform raw energy consumption data into visually engaging widgets and graphical representations that engage building occupants, motivate behavior change, and give building managers continuous insight into energy-saving opportunities.
The Panoptix cloud-based solution allows other companies to access building energy information and develop tools that customers can add to their energy management toolkit easily and at low cost. The release of Panoptix marks another major step as major automation and building technology companies move toward putting data in the cloud and making available open systems that third parties can access. See Lucid Building Dashboard in the Panoptix energy-efficiency apps marketplace.
"The Panoptix software development community provides the building data, tools and support for developers and established software companies such as Lucid, to create and market new applications that address energy efficiency, sustainability and operations," said Laura Farnham, vice president, building technology and service, Johnson Controls. "Lucid's Building Dashboard represents building data in a meaningful and intuitive way for owners to manage their facilities."
"As more customers migrate their data to the cloud, Lucid can transform that building resource data into a single visual platform that increases engagement, insight and action — and can drive the adoption of energy-efficiency measures by lowering the cost of evaluating and implementing those measures," said Michael Murray, CEO of Lucid.
The seamless integration with the Johnson Controls API marks another milestone for Lucid as the company continues to integrate its occupant engagement technology with a broad range of building technologies, metering solutions, automation companies, utilities, and Green Button Data. To date, Lucid has developed connections with more than 40 data sources, making Building Dashboard one of the most interoperable building energy management technologies available.
About Panoptix
The Panoptix solution is a combination of software and services to help single building owners or managers of global enterprises improve the performance of their buildings, decrease energy use and operational costs, and reduce greenhouse gas emissions.  It is driven by cloud-based apps that provide visibility into how every system, subsystem and device is functioning, and provides information to take actions to improve their performance. It works with any size building, any building management system; can be accessed by any computer, tablet or smartphone; and is supported with industry news, an online community and Johnson Controls Live Guide™ experts. Visit http://www.johnsoncontrols.com/panoptix.
About Lucid
Founded in 2004, Lucid is a privately held cleantech software company and a pioneer in providing real-time information feedback to teach, inspire behavior change, and save energy and water resources in buildings. Over the past eight years, Lucid's team has made resource use visible, accessible, and engaging so that building occupants have the data visualization and communication tools to manage and reduce their consumption. Today, hundreds of thousands of people live and work in schools, companies, and organizations enhanced by Lucid's award-winning Building Dashboard® technology. Visit http://www.luciddesigngroup.com, or follow Lucid on @luciddg and facebook.com/luciddesigngroup.