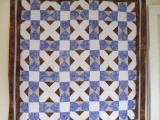 Ludlow, Shropshire (PRWEB UK) 13 March 2013
Ludlow Quilt and Sew has been helping beginner quilters for nearly four years, providing quilt patterns and project tutorials through free weekly newsletters. Now with a new website they can present all this information in a more simple, reader friendly format to their worldwide audience.
The growth of crafting in general and quilting in particular has been astounding and Ludlow Quilt and Sew has been at the forefront in explaining how to quilt, simplifying the jargon, demonstrating techniques and helping out with shortcuts by means of free weekly newsletters. These provide simple and easy to understand tutorials for a different quilting project each week. Both video and photos are used to give clear and simple instructions for completing each project.
With the launch of the new how to quilt website, the information on all these projects can be presented in a more simple format with easier navigation. The guide to quilt block patterns has been expanded with many more clear and simple instructions now available. Many quilt blocks can be made in several different ways, but the instructions given are always for the most simple method.
The principle of a step by step guide to making patchwork quilts remains as the basis of the website's existence. The beginner quilting guide provides a series of articles covering all aspects of quilting from design through to binding the finished quilt. By providing the information in bite sized chunks, Ludlow Quilt and Sew makes the information more accessible. Whether the aim is to save money by making gifts or to create something special, the information is available to everyone.
Early responses to the new website have been extremely favourable, with subscribers describing the layout as being easy to follow and more simple to navigate. The instructions for the projects remain as simple as they have always been and many quilters have commented on how much their confidence is boosted by completing a project.
Following the launch of the new website, Ludlow Quilt and Sew can now concentrate on what they do best – making videos and tutorials to help people all over the world begin quilting and gain satisfaction from completing hand crafted projects ranging from a simple tote bag to an heirloom quilt.
About Ludlow Quilt and Sew:
Established in 2009, Ludlow Quilt and Sew was created for the sole purpose of helping others to learn how to quilt. The emphasis is always on simple patterns with clear instructions and the weekly newsletter has attracted followers from all five continents.