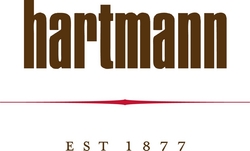 Lebanon, Tenn. (Vocus) November 7, 2008
Hartmann Luggage is proud to announce its participation in this year's BAFTA/LA Britannia Awards Presented by Bombardier Business Aircraft, one of Hollywood's most prestigious evenings. This event is the British Academy of Film & Television Arts, Los Angeles' signature awards ceremony. The British Academy of Film & Television Arts, Los Angeles is a professional organization founded to promote and advance original work in film, television and interactive media, BAFTA/LA serves as the bridge between the Hollywood and British production and entertainment business communities.
Hartmann is taking part in the event by donating more than $16,000 in product for BAFTA/LA's silent auction which will enhance outreach and scholarship programs for the trade organization. The donation includes pieces from Hartmann's new Luxe Collection, along with items from their signature Tweed, Belting Leather and Wings Collections.
Award presenters include Ben Affleck, Annette Bening, Jack Black, Patricia Clarkson, Anjelica Huston, Eddie Izzard, Hugh Laurie and Paul Thomas Anderson at our spectacular gala evening, where we will be joined by host Harry Shearer to honor our four worthy Britannia Award recipients - Sean Penn, Don Cheadle, Stephen Frears and Tilda Swinton. The ceremony will be held on Thursday, November 6, at the Hyatt Regency Century Plaza in Century City.
About BAFTA/LA
Serving as the bridge between the American and British entertainment communities, BAFTA/LA is a professional non-profit organization founded in California in 1987 to promote and advance original work in film, television and interactive media.
BAFTA/LA's outreach programs benefit members and other professionals working within the entertainment industry, as well as the Los Angeles community at large. BAFTA/LA provides exclusive access to screenings, Q&A's with talent and filmmakers, conversations with leading UK-based film and television executives, and the Heritage Archive, featuring broadcast-quality interviews with distinguished British members of the film and television industries. Educational outreach for students and the Los Angeles community includes an after-school screening program for inner-city youth at the Helen Keller Park Recreation Center and a recent partnership with FilmAid to mentor young filmmakers. Additional programs include seminars in association with local universities and festivals, scholarships for post-graduate programs, and recognizing professional and student talent with awards at film festivals throughout the U.S.
Maintaining a long tradition of recognizing the finest filmmaking and television talent, BAFTA/LA hosts a series of social networking events, including the Annual BAFTA/LA-Cunard Britannia Awards, the BAFTA Film Awards Brunch, the Annual Garden Party, and the Awards Season Film and Television Tea Parties in January and September. BAFTA/LA is affiliated with BAFTA in London, and members vote annually for the prestigious BAFTA Film Awards. For more information on BAFTA/LA, visit http://www.baftala.org.
About Hartmann
Hartmann, one of the country's oldest luggage and leather goods manufacturers, is currently celebrating its 130th anniversary. Since 1877, Hartmann has developed, manufactured and marketed the finest luggage and leather goods to meet the travel and business needs of those who appreciate American luxury.
Headquartered in Lebanon, Tenn., Hartmann distributes and sells its luggage, business cases, and personal leather accessories in the U.S. and internationally through finer department and specialty luggage stores. Hartmann is owned by Clarion Capital Partners, LLC, a New York-based private equity firm investing in the consumer products, specialty retail, business services, healthcare services, specialty financial services and niche media/entertainment industries. Additional information about Clarion may be found at http://www.clarion-capital.com. For more information about Hartmann, please visit http://www.hartmann.com.
###