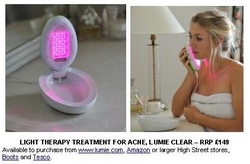 The condition itself can worsen at any time of the year, winter included, but what is important is to maintain your anti-acne regime. This may be scaled up or down depending on your acne, but as long as your pores remain open, your acne will be minimised.
(PRWeb UK) December 21, 2010
For acne sufferers, the combination of late nights, excessive drinking and eating the wrong foods over the festive break can cause havoc to their skin, unless the right New Year skincare resolutions are made now.
Based on medical research and developed alongside Dr Tony Chu's team of leading dermatologists from London Hammersmith Hospital, Lumie Clear is a revolutionary home-based treatment that uses light therapy to dramatically improve mild-moderate acne by up to 76 per cent within just 12 weeks.
Using powerful LEDS, Lumie Clear emits specific wavelengths of light from the blue and red spectrum that work simultaneously to kill the bacteria causing acne and reduce the redness it leaves behind. After just four weeks, Lumie Clear can make a significant difference to the number of acne breakouts and after 12 weeks, it can reduce acne by up to 76%. And according to results from the new survey from Lumie, Lumie Clear can actually help acne sufferers save thousands of pounds, too!
Despite being in the middle of a recession, results from the Lumie 'Spotlight on Acne Survey' suggest people are still willing to pay the price of having good skin - with the average acne sufferer spending around £216 per year on acne treatments. Results also reveal £336 is the average price people are willing to pay out each year to be free from the skin condition.
Priced at RRP £149, Lumie Clear offers acne sufferers a cost effective alternative that, over a period of just a few years, could save people thousands of pounds. And unlike traditional treatments such as prescriptive medication, tablets and creams, Lumie Clear does not cause harmful side effects and won't leave the skin feeling dry, oily or irritated. Lumie even provides its customers a 30 day home trial so that people can make sure light therapy works for them.
Charlotte, an avid user of Lumie Clear, said: "I'm really pleased with the results of Lumie Clear, especially how quickly it reduced redness and inflammation. Thanks to Lumie Clear, I no longer suffer constant pain from the inflammation and the number of spots has significantly reduced, too. I found skin contact to be the most effective method - though this can be quite time consuming when treating a large area (my back).
"Lumie Clear even came on holiday with me. It wasn't too bulky to pack away in a suitcase, but it did sustain a slight injury at some point during the flight!
"This is the best treatment for acne I have found so far - easy to use and very effective at reducing painful inflammation - I will definitely continue to use Lumie Clear in the future!"
For best results Lumie Clear should be used in contact with the skin every day for 15 minutes on each affected area. For larger areas, such as your back or shoulders, users might prefer to fix Lumie Clear to its base unit and opt for a one-hour session, instead.
Dr Rakesh Patalay, a dermatologist at London Hammersmith Hospital, said: "Light therapy is an effective but underutilised therapy in the fight against acne.
"The condition itself can worsen at any time of the year, winter included, but what is important is to maintain your anti-acne regime. This may be scaled up or down depending on your acne, but as long as your pores remain open, your acne will be minimised."
ENDS
If you would like further information, access to scientific research, case studies or comments from academic experts, please contact the Lumie press office on 01954 780 500 or email lindsay(at)lumie(dot)com
Notes to Editor:
*Research: Br J Dermatol. 2000 May; 142 (5): 973-8.
Lumie Clear has been developed alongside a leading research team and dermatologist, Dr Tony Chu, at London Hammersmith Hospital. Acne often improves after spending time in the sun and research into light therapy as a treatment for acne has focused on the two parts of the spectrum; blue light (415nm) that attacks the Propionibacterium acnes bacteria and red light (660nm) that's known to soothe inflammation and promote healing. Following research carried by Dr Chu results where this type of light therapy was used showed over 100 patients who used a combination of blue-red light therapy saw a real difference in their acne after four weeks and at the 12 week stage, their skin was on average, 76% less inflamed and 56% clearer.
Stock information:
Lumie Clear is available to purchase directly from Lumie, either from its website (http://www.lumie.com)] or by calling the dedicated careline (01954 780 500). Alternatively, Lumie Clear is available from Amazon or larger High Street stores, Boots and Tesco.
About Lumie:
Cambridge-based Lumie offers over 19 years experience and expertise in light therapy and only light therapy and invented dawn simulator wake-up lights with our Bodyclock range, so that anyone could feel the benefits of waking up to light all year round.
As Europe's leading light therapy specialist, Lumie offers a wide selection of products, including Bodyclock dawn simulators, lightboxes, visors and LED treatments, all of which are certified as a medical device and are available to customers on a 30 day home trial.
Based on scientific research, Lumie has lights for skincare, the treatment of mood and circadian rhythm disorders such as Seasonal Affective Disorder (SAD) and sleep issues, and for the relief of allergies like hay fever.
Working in association with leading experts in Dermatology, Psychiatry and Chronobiology, Lumie has earned the respect of the medical profession by innovating products that are based on new developments in scientific research and clinical trials. Lumie is a massive success in the mainstream health and wellbeing arena and prides itself on providing the highest level of personalised care to customers by offering knowledgeable, friendly advice through its customer care team and via its internet forum, http://www.lumie.com/forum
###