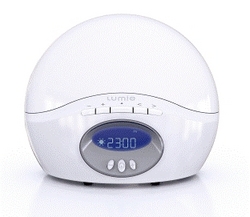 Scientists and Europe's light therapy expert, Lumie, explain how the effects of people relaxing their sleep and wake-up routine over the festive season could lead them to feeling the effects of social jet as they return back to work in January.
Cambridge, UK (PRWeb UK) December 30, 2010
After a welcomed Christmas and New Year break, the idea of going back to work can be rather difficult as people are not only faced with the negative emotions associated with the holiday season being over, but according to light therapy expert, Lumie, many could also suffer the after effects of having two weeks of irregular sleep patterns; experiencing symptoms similar to jet lag – but without travelling to a different time zone.
Over the festive period, many will find they relax their sleep patterns – treating themselves to well deserved lie-ins and going to bed later than normal as they don't have to be up at the crack of dawn for work the next day.
However, when faced with going back to work after nearly two weeks of our sleep / wake cycling 'free-running', returning back to a routine of waking up in the dark can throw our internal body clock (or circadian rhythm) out of synch. As a result, people are left feeling similar effects to jet-lag whereby they struggle to get up in the morning, feel sluggish, find it a difficult to fall asleep at night and feel sleepy during the day – this is known as social jet lag.
Social Jet Lag is the term coined by researchers used to describe this state and it is the difference between biological time and external requirements. As well as affecting adults, it also causes a problem amongst adolescent teenagers who find it difficult to wake up for school as their pre-programmed body clock is telling them to wake up later.
Those suffering from social jet lag can expect to experience symptoms similar to jet lag, including indigestion, loss of appetite, difficulty concentrating, memory problems, clumsiness, feeling generally unwell, lack of energy (fatigue) and irritability.
Dr Victoria Revell, a chronobiologist at the University of Surrey, said: "Light is critical for synchronising our internal body clock, that drives daily rhythms in our behaviour and physiology, to the 24 hour day. In the majority of people the clock runs at slightly longer than 24 hours and so it is morning light that is essential for correcting the clock on a daily basis and keeping it running at exactly 24 hours.
"Over the Christmas period we will enjoy staying up late at night and staying in bed in the morning. However, this will allow our body clock to drift later in time similar to flying a couple of time zones west. This means that when we go back to work in the New Year our body clock will be set later than we want it to be so we will really struggle to wake up, get up and get going in the mornings.
"One way to enjoy the festive season but not let our body clock drift too far is to ensure that we still get up at a reasonable time and either use a dawn simulator, where light gradually comes on during the last part of sleep, or a light box upon awakening while having breakfast or watching TV. This morning light will keep our body clock in check so that whilst we may not look forward to returning to work in 2011, at least we will be able to get ourselves to work on time."
After launching the first ever wake up light in 1993, Lumie has continued to develop dawn simulators like NEW Bodyclock Active to help brighten up people's mood and provide a more natural way to wake up in the morning. The sunrise is completely gradual, brightening extremely slowly from darkness to light.
Simply set the time you need to be awake and chose your sunrise length (15, 20, 30, 45, 60 or 90 minutes). The light inside Bodyclock Active will gradually start to brighten over your chosen sunrise length to provide you with your own personal sunrise. By the desired wake up time, the light will be at its full brightness and you will have woken up naturally and gently - the way nature intended. Scientific research has also shown that waking up to light every day keeps your circadian rhythm (otherwise known as your internal body clock) in check so you feel refreshed, energised and ready for your day ahead - at the time which suits your lifestyle.
Watch how Lumie Bodyclock Active works, HERE
Bright lights like Lumie Brightspark, Lumie Desklamp and Lumie Zip improve mood, concentration and energy levels and are commonly used as a treatment for SAD (Seasonal Affective Disorder) and winter blues. They provide the same benefits as going outside on a bright spring morning and research has proven they can also be used to facilitate sleep problems and synchronise one's circadian rhythm.
Jonathan Cridland, CEO of Lumie, said: "The sunrise is our natural alarm to which our body responds; resetting our daily circadian rhythm and controlling internal processes such as when we wake and fall asleep.
"As the circadian rhythm is extremely sensitive to light , when it receives inconsistent light cues whether this be a result of waking up early, going to bed late or well deserved lie-ins, it causes our body to experience feelings of extreme tiredness and stress – similar to jet lag."
If you would like further information, access to scientific research, case studies or comments from academic experts, please do not hesitate to contact the Lumie press office on 01954 780 500 or email lindsay(at)lumie(dot)com
ABOUT LUMIE
Cambridge-based Lumie offers over 19 years experience and expertise in light therapy and only light therapy and invented dawn simulator wake-up lights with our Bodyclock range, so that anyone could feel the benefits of waking up to light all year round.
As Europe's leading light therapy specialist, Lumie offers a wide selection of products, including Bodyclock dawn simulators, lightboxes, visors and LED treatments, all of which are certified as a medical device and are available to customers on a 30 day home trial.
Based on scientific research, Lumie has lights for skincare, the treatment of mood and circadian rhythm disorders such as Seasonal Affective Disorder (SAD) and sleep issues, and for the relief of allergies like hay fever.
Working in association with leading experts in Dermatology, Psychiatry and Chronobiology, Lumie has earned the respect of the medical profession by innovating products that are based on new developments in scientific research and clinical trials. Lumie is a massive success in the mainstream health and wellbeing arena and prides itself on providing the highest level of personalised care to customers by offering knowledgeable, friendly advice through its customer care team and via its internet forum, http://www.lumie.com/forum.
# # #