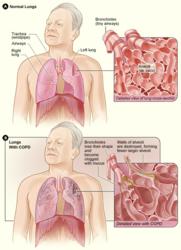 "Health is the greatest gift, contentment the greatest wealth, faithfulness the best relationship."
-Buddha
Fairfax, Virginia (PRWEB) November 13, 2012
Pulmonary and Critical Care Specialists of Northern Virginia, P.C. is celebrating COPD and Lung Cancer Awareness Month. Understanding the signs and symptoms of both COPD and Lung Cancer will help you be pro-active in your health.
COPD (Chronic obstructive pulmonary disease) is a progressive disease that makes it hard to breathe. "Progressive" means the disease gets worse over time. COPD can cause coughing that produces large amounts of mucus (a slimy substance), wheezing, shortness of breath, chest tightness, and other symptoms.
The leading cause of COPD is cigarette smoking. Most people who have COPD smoke or used to smoke.
At first, COPD may cause no symptoms or only mild symptoms. As the disease gets worse, symptoms usually become more severe. Common signs and symptoms of COPD include:
-An ongoing cough or a cough that produces a lot of mucus (often called "smoker's cough")
-Shortness of breath, especially with physical activity
-Wheezing (a whistling or squeaky sound when you breathe)
-Chest tightness
Lung Cancer is cancer that forms in tissues of the lung, usually in the cells lining air passages. The estimated new cases and deaths from lung cancer in the United States in 2012: New cases: 226,160 & Deaths: 160,340
Lung cancer often has no symptoms until it has spread. This is because there are few specialized nerves (pain receptors) in the lungs. When lung cancer symptoms do occur, they vary depending on the type of lung cancer and location and size of the tumor. Some lung cancer symptoms are similar to those of other common illnesses.
Remind your doctor of your medical and social history at each physical examination to assist in a prompt and accurate diagnosis.
Lung cancer symptoms may include the following:
-Coughing (most common, 50% of cases)
-Blood in sputum (hemoptysis)
-Shortness of breath (dyspnea)
-Wheezing
-Pain in the chest
-Fatigue
-Pneumonia