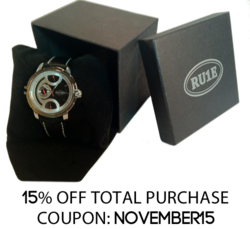 I'd like to be part of the movement to make significant, positive impact. - CEO, Matthew Spiers
Ithaca, NY (PRWEB) November 06, 2012
Luxury accessories brand RU1E has launched its new website, http://www.RU1E.com, with a bold statement from its CEO and Co-Founder Matthew Spiers: to become the catalyst, funding, and footwork of real positive change in the world—offering affordable luxury accessories to college students embarking on the careers of their dreams and donating a significant portion of profits to charities around the world.
RU1E's current line-up of products includes high-quality watches and leather wallets for both men and women, bold ties for men, and fashionable scarves for women. In adherence to its company mission statement, RU1E products such as its luxury watches featuring Seiko and Miyota movements, are offered at significantly reduced prices than other vendors.
With regards to the deep discounts, Mr. Spiers says that "We strive to help college students who are going out there to start their careers. They are continuously going into interviews, meetings, lunches, and more without the ability to look professional on the standard college budget. RU1E helps these students by letting them customize their professional look with stylish accessories, without the need to pull out another student loan."
In addition to the brand's highly discounted line of luxury accessories, RU1E is also deeply committed to its goals of philanthropy.
Mr. Spiers says "I'd like to be part of the movement to make significant, positive impact. Real change in this world weaves focus and funding into one effort. Both together, can truly accomplish anything."
To this end, RU1E is currently working closely with Amazima Ministries, a sponsorship charity working to provide orphaned children of Uganda with education, food, and basic medical care. Mr. Spiers states that as RU1E continues to gain footing in the fashion world, it will donate greater portions of its profits to other charities around the world and someday create philanthropy efforts of its own.
As Mr. Spiers puts it: "You will not find another place where you can benefit yourself by buying a high-quality, luxury, and unique product and still be making a difference in the world."
Customers of RU1E's line of luxury accessories include people from the US, UK, Denmark, Hong Kong, Australia, and South Africa. All of RU1E's products can be purchased directly from its website at http://www.ru1e.com. Use coupon code: NOVEMBER15 for an extra 15% off.