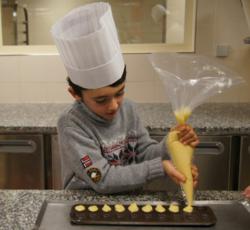 Many of the City of Light's iconic brands have opened their arms to families and offer amenities, services, and even staff, just for kids.
San Francisco, California (PRWEB) March 01, 2013
The joy of luxury and pampering in Paris isn't just for adults anymore. Many of the City of Light's iconic brands have opened their arms to families and offer amenities, services, and even staff, just for kids. There's a wide array of family hotels in Paris, but these five luxury properties offer a unique, memorable experience for children and execute on their promise to please.
Each of these hotel gems is so different that one could stay at each property over a family vacation in Paris and feel like they are seeing the city in a new way. Wouldn't it be fun to try them all?
Exquisite Modern Design on the Coveted Rue Saint-Honoré
Mandarin Oriental Paris: The Mandarin Oriental Paris opened its doors in June 2011 with 99 rooms and 39 suites on a coveted block of the rue Saint-Honoré not far from the Louvre. Guests enter the hotel through an exquisite art and light-filled lobby overlooking a lush garden lounge. Clearly, no expense was spared when the hotel was decorated, yet amazingly, the interior is approachable and comfortable, hence kid-friendly too.
The generous staff to guest ratio creates a one-on-one service experience. State-of-the-art rooms are thoughtfully configured for comfort. Highlights for kids include the lobby cake bar and 14-meter lap pool for sightseeing breaks.
On the Web: MandarinOriental.com/Paris
A Gated, Grand Chateau in Paris
Saint James Paris: Located in a residential section of the exclusive 16th Arrondissement, the Saint James Paris is a grand, urban chateau that feels more like a private club than a hotel. The broad, leafy boulevards that characterize this area are perfect for leisurely family strolls, yet the property is a short walk from the bustle of the Champs-Elysées and the Eiffel Tower.
The interior has been thoroughly redesigned in an exciting combination of old-world sophistication with striking modern elements that together create a strong sense of place. Highlights for families include expansive, gorgeous rooms and suites with plenty of space to spread out and a wonderful private garden.
On the Web: Saint-James-Paris.com
Children are VIPs at this Luxury Icon
Four Seasons Hotel George V, Paris: The Four Seasons Hotel George V, Paris is one of the city's most prestigious landmark hotels. Luckily for families, children are treated as Very Important Persons from the moment they arrive.
Although the public spaces are opulent, the service is unpretentious. This is the reason why, in the midst of all the elegance and glamour, the George V is relaxing with kids of all ages. Highlights for families include the Recreation Manager, Claudia Caringi, who ensures kids are happy and entertained inside and outside of the hotel; Madeleine cookie baking with the chef and behind-the-scenes tours with access to the pastry cooler are just a few of treats Claudia has in store for kids staying in Paris.
On the Web: FourSeasons.com/Paris
Home-Away-From-Home on The Left Bank
Hotel Esprit Saint Germain: Offering just 28 rooms, this intimate hideaway on the Left Bank of Paris feels more like a Parisian pied-à-terre than a boutique hotel. The honor bar in the cozy lounge sets the tone for feeling at home here at any point during the day and is perfect for family downtime.
Rooms are small, but well appointed and cozy. Amazingly given the size, the hotel offers connecting rooms on each floor for families, as well as a suite. Service is very friendly and helpful. Highlights for families include the phenomenal location in the best part of Saint-Germain-des-Prés, as well as easy access to one of the world's most beautiful parks to enjoy as a family, the Luxembourg Gardens.
On the Web: Hotel-Esprit-Saint-Germain.com
Family Tradition at Le Bristol Paris
Le Bristol Paris: Le Bristol Paris boasts an unbelievable guest return rate — generations of families, literally, return here year after year. Guests flock to Le Bristol because they covet the old-world, traditional experience that is increasingly difficult to find in today's modern hotels.
Despite the palatial exterior, the interior is homey and timeless, not stylish or trendy. Service is non-scripted and authentic with warm smiles, not austere stares. Guest rooms are absolutely massive for Paris and suites feel more like apartments than hotel rooms. Highlights for families include Fa-roan, the house cat, the spa featuring a kids' activity room filled with games and toys, and the rooftop pool overlooking Montmartre and Sacré-Coeur.
On the Web: LeBristolParis.com
##
Ciao Bambino! Inc. is a leading family travel brand and publisher of a global travel planning resource for families. Their award-winning guide features best-in-class family-friendly hotel reviews and a comprehensive family travel blog offering tips, news, and narratives related to traveling with kids of all ages. CiaoBambino.com is the only dedicated family travel resource offering an online booking service for readers who are able to make requests directly from the site to over 300 parent-approved hotels, resorts, and villas for best available pricing. Ciao Bambino specializes in reviewing kid-friendly luxury hotels. Follow Ciao Bambino on Twitter @CiaoBambino and on Facebook at http://www.facebook.com/ciaobambino.