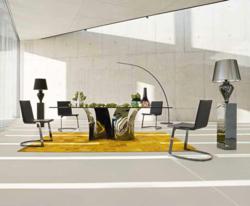 San Francisco, CA (PRWEB) March 13, 2013
Roche Bobois, the purveyor of luxury furniture in San Francisco, has announced the launch of their Spring/Summer collection. This new collection features pieces created by renowned French designer Cédric Ragot that reflect Roche Bobois' philosophy of l'art de vivre and give customers the freedom to choose, to change, and to opt for exclusivity and creativity when making their home design decisions.
Like haute couture fashion houses, Roche Bobois launches two full collections every year. Roche Bobois' fine furniture collections are manufactured exclusively in European workshops by both renowned designers and emerging talent. Roche Bobois furniture brings together innovative ideas with a twist on the classics for a new take on contemporary eclecticism.
The Spring/Summer 2013 collection brings together the natural with the sophisticated and was designed to inspire those looking for both indoor and outdoor modern furniture customized to personal taste and preferences. The pieces in this collection blend function and ornamentation to provide luxurious comfort without compromising on looks.
All Roche Bobois furniture is available in a wide range of colors, materials, and finishes to suit each individual's unique taste. To view the Spring/Summer 2013 collection, stop by the Roche Bobois San Francisco showroom at 701 8th St, San Francisco, CA 94103.
About Roche Bobois San Francisco
Roche Bobois was founded in 1960 following the merger of two Paris furniture retailers. The firm soon became the French furniture brand. The twice-yearly published collections are the last word in lifestyle, and are designed in association with top international designers and the most prestigious fashion houses. The collections are split between the Contemporary and Nouveaux Classiques to offer a complete panorama of design and style.
Roche Bobois is present in 45 countries. Roche Bobois San Francisco is located in the heart of the Design District. Its showroom features the latest collections with pieces that are well-crafted and designed from the finest materials and customizable to fit unique preferences and tastes.
Visit the Roche Bobois store at 701 8th St, San Francisco, CA 94103 to experience the latest in European contemporary furniture.