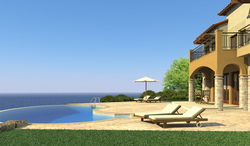 (PRWeb UK) November 8, 2010
Alexander Heights – the final and most luxurious real estate installment at the multi-award winning Lanitis owned Aphrodite Hills Resort, Cyprus – goes on sale in November, offering a new, unique and last opportunity to buy into the prestigious resort.
The Alexander Heights development is set in one of the most desirable locations of South West Cyprus' prestigious lifestyle resort. Inspired by the incomparable and 360 degree vistas, the architects have capitalized on the natural contours of the south-facing site. Villas promise unrivalled and uninterrupted views over the Mediterranean Sea from sunrise to sunset and each features a private pool set in spacious terraces and stunning gardens, plus an effortless lifestyle is assured with under-floor heating, concealed dual air conditioning/heating, home automation electrics and a discreet security system.
Sympathetic to the traditional village architecture of Cyprus, but reinterpreted with contemporary and uncompromising luxury, meticulous attention to every detail is evident throughout the Alexander Heights properties, from the charming architectural accents of wood, stone and traditional terracotta tiles to the extravagantly appointed kitchens and marble-floored bathrooms.
The gated community comprises of 69 properties in total – 21 Villas, 16 Junior Villas and 32 Apartments. Completion date is slated for December 2012.
21 Luxury Cyprus Villas: Ultra-luxurious, the detached Villas stand in generously sized, private landscaped gardens with stunning sea views and a heated infinity pool and Jacuzzi. Three bedroom Villas offer 156 square metres of covered floor space; four bedroom from 197 to 221 square metres and five bedroom from 242 to 264 square metres. Each property also has a generous 66 to 102 square metre basement, which may be used as playroom, TV room, or if the owner prefers an optional sauna can be installed.
16 Junior Villas: While constructed in semi-detached style, each elegant and contemporary Junior Villa stands in its own private garden with swimming pool and the sweeping sea view that is the signature of Alexander Heights. Arranged over two floors, the properties offer between 137 and 165 square metres of interior space, including the owner's choice of two or three bedrooms.
32 Apartments: The beautiful, spacious Cyprus apartments for sale are set in two-storey buildings with just four homes in each unit. There is a choice of two bedroom apartments offering 99 to 104 square metres of living space and three bedroom apartments with 120 square metres and almost all offer stunning sea or golf course views. An effortless lifestyle is assured with under floor heating and a concealed dual air conditioning/heating system. First floor apartments have Cypriot village-inspired exterior staircases, adding to the feeling of space and privacy.
Owners at Alexander Heights can enjoy all the expansive Eastern Mediterranean resort has to offer including outstanding golf, a highly acclaimed spa and superb sports and leisure facilities, plus a social and active programme and year-round calendar of events. What's more, it is located within easy walking distance of the resort's Village Square.
Cyprus luxury property continues to be a popular investment choice for many Britons and the island itself continues to elevate itself to a five-star level with its stable economy and well-established tourism and leisure infra-structure that is developing further with investments in four marinas, 11 golf courses, the airports, theme parks and an international conference centre.
Lanitis is one of the most respected names in Cyprus real estate; over the last nine years, the company has successfully completed, delivered over 700 properties and plots winning a number of awards and accolades over the years and cementing its place as one of the best on the island. The five-star Lanitis owned Aphrodite Hills Resort close to Paphos continues to go from strength to strength.
About Aphrodite Hills Resort
A fully integrated resort community, Aphrodite Hills is a low-density development of 650 luxury properties set in 234 hectares of spectacular scenery. The resort offers a luxurious hotel – the InterContinental Aphrodite Hills Resort Hotel, and owners can enjoy all the on-site sports and leisure facilities. In addition to world-class golf, tennis and spa, there is mountain biking along unspoilt countryside trails, children's and teens' fun activity programmes and for a change of pace, two private beach clubs, each a short shuttle ride away. The Zias Beach Club, some 10 minute's drive away, has a sea view terrace restaurant, while The Cove is the resort's own chic, white retreat on the shores of the Mediterranean.
Designed by Wimberley Allison Tong & Goo and constructed on either side of the nature reserve of the Randidi Gorge, the Aphrodite Hills development is built as a number of small villages, in line with the natural, dramatic contours of the area. Communities of mainly townhouses and apartments, plus some villas are located on the Western plateau. Individually specified, private villas are located on the Eastern Plateau.
About Savills Select Resorts
As well as having advised clients for over 25 years on where and what to buy, Savills Select Resorts also offer its developers an array of powerful marketing solutions: networking conferences each year, discounts in national publications and newspapers, web design and development, Referrals, social networking, Marketing Tools and more!
Aphrodite Hills provides unparalleled property buying opportunities within the most prestigious 5-star luxury sports, leisure and real estate resort in the Mediterranean.
# # #