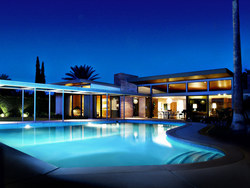 Fort Lauderdale, FL (PRWEB) August 15, 2007
MasterpieceRentals announces the availability of several new luxury vacation homes available to rent from its site, MasterpieceRentals.com. Vacation rentals can offer a perfect opportunity for anyone to live like a celebrity during a vacation getaway. One new vacation home listed at MasterpieceRentals.com, the former home of Frank Sinatra in Palm Springs, California, offers just that.
Twin Palms is the legendary former estate of Frank Sinatra, located in the Movie Colony area of Palm Springs, California. This 4,500 square foot home was host to some of the valley's most glamorous parties with Hollywood's brightest stars, including Bob Hope, Joan Crawford, Phil Silvers, Mary Livingston, George Burns, Gracie Allen and even the reclusive Greta Garbo. The home, property 2115, features four bedrooms and sleeps eight.
The following are some of the other luxury vacation rentals now available at MasterpieceRentals.com:

About MasterpieceRentals.com
MasterpieceRentals.com is the world's most complete and user-friendly luxury vacation rental Web site, providing the finest collection of vacation homes in more than 1,000 vacation destinations worldwide.
The site is an indispensable set of management tools combined with an economical conduit between potential renters and the property owners, allowing potential renters to select from an extensive collection of properties based on location, size and price, and by a variety of features and property types.
MasterpieceRentals, LLC is based in Fort Lauderdale, Florida, and is led by an experienced team of online and travel industry experts.
# # #