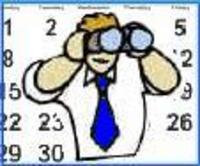 Our new DUF/EMI Viewer allows conversion and usage of large amounts of Standards-based Telcom billing data - Carl Fox, CFO Lymeware
Old Lyme, CT (PRWEB) August 4, 2010
Lymeware Corporation announces the general availability of its DUF/EMI Viewer product for Solaris, Red Hat Linux and Windows (2000/XP/Vista/7). This command line utility can reformat DUF EMI records into usable, readable formats.
The Lymeware Daily Usage Feed (DUF) Exchange Message Interface (EMI) Billing file Viewer product is a command-line utility to reformat DUF EMI files into several different output formats, including:

text, with several data options,
CSV (comma-delimited format) which can be imported in to Microsoft Excel,
Database (for import into most major database software),
XML, with standard EMI field names, and
HTML, viewable in any web browser.
This tool is available as a Linux, Solaris and WindowXP/Vista/7 32bit product.
The DUF Viewer product provides the ability to generate customized summary and detailed reports from the raw EMI billing data. EMI is the standard billing format used by the U.S. Telecommunications Industry.
DUF Viewer currently supports Exchange Message Interface (EMI) Issue 22 Revision 3, as defined by The Order and Billing Forum (OBF) of The Alliance for Telecommunications Industry Solutions (ATIS).
Lymeware has also released an embedded engine version of DUF Viewer
for use by customers own internal software to directly convert DUF/EMI data files in
to any of the supported formats through a simple API. The DUF Viewer engine is available
as a:

a native Windows DLL,
a Linux shared library, and
a Solaris shared library.
For more information or to download Lymeware DUF Viewer product visit::
More information on DUF Viewer
A free 30-day evaluation of the full DUF Viewer product is available upon request.
About Lymeware
Lymeware Corporation, founded in 1995, provides secure messaging solutions, XML/EDI integration frameworks, and consulting services for Fortune 1000 companies, CLECs and other service providers throughout the US. Lymeware built the first ILEC EDI ordering platform, several of the first CLEC ordering systems, the first IA to successfully test with all of the top ILECs, the first XML-based OSS to support EDI and several other innovations in the Telecom Industry.
Lymeware Corporation is privately held and has offices in Old Lyme, Connecticut.
For more information about Lymeware, visit Lymeware Home Page
# # #