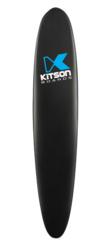 This winning combination ensures people of any body type, or age, or gender will have the best possible user experience
Olympia, WA (PRWEB) March 02, 2013
This month, Kitson Boards, the USA-based carbon fiber paddle board and surfboard company rolled out their new M-Series of Planning, Touring and Racing Paddle Boards. This collection of boards are the latest version of their ultra durable and light weight carbon fiber boards.
Kitson Board engineers have used their training and experience to craft these high performance boards.
"This winning combination ensures people of any body type, or age, or gender will have the best possible user experience." Said Kitson.
Designed with a mixture of great strength while being ultra light weight, these boards come in just under 20 pounds. Crafted for both novice or a seasoned professional paddle boarders, these M-Series boards are designed to give the rider maximum performance.
The new M-Series boards start at $1099.99
Kitson Boards is a subsidiary of AmazingUniverse.com, Inc. which is also responsible for Wine Rack Store.com and was founded by Michael and Denise Kitson. Kitson Boards, LLC headquarters is located in Olympia, WA. Kitson Boards are all crafted out of the ultra durable and long lasting carbon fiber material. All production of surfboards, paddle boards and wakesurf boards, as well as the people behind the brand are based in North America and is the only board producer to do so. Kitson Boards prides itself on outstanding customer service and only the finest in recreational boarding and accessories. Free shipping is available throughout the continental USA.