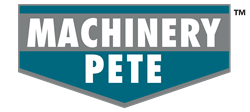 CHICAGO (PRWEB) December 10, 2018
MachineryPete.com, the fastest-growing used farm equipment marketplace, announced the launch of their first Unreserved Online Dealer Auction in conjunction with BigIron Auction Company, rural America's largest unreserved online auction service provider. This exciting event offers the farm equipment shopper a unique opportunity to bid on high quality equipment from various dealerships across the country. Online bidding started December 6, 2018.
From now until December 27, buyers can bid on high-quality tractors, combines, balers, sprayers, and more during this unique event. The auction is 100% unreserved, with all items free of liens and buyer fees. What's more, each sale is completely transparent, allowing buyers to contact the sellers personally, ask questions, and inspect the items.
"We are thrilled to join forces with BigIron for this auction event," said Kevin Doyle, CEO of MachineryPete.com. "BigIron's resources and expertise will accelerate our ability to deliver a successful auction. We're excited to give our customers an alternative vehicle to buy and sell used farm equipment."
"MachineryPete.com and BigIron are a great fit," said Andy Pyron, President and CEO at BigIron Auctions. "Connecting participating dealers in an unreserved joint venture with market leading companies MachineryPete.com and BigIron Auctions assures dealers they'll receive the coverage required to deliver true market value for their listings. Farmers and ranchers involved know they can bid and buy knowing that all equipment sells lien-free with no additional buyer premiums."
In support of the Machinery Pete Online Dealer Auction in conjunction with BigIron.com, the company has launched a three-week, multi-platform, unprecedented advertising campaign with strong promotion on the MachineryPete.com website and social media networks, email programs, display ads across relevant websites, ongoing promotions and special editorial segments on TV and radio shows including, "Machinery Pete TV" , "AgriTalk," "AgriTalk After the Bell", "AGDay", "U.S. Farm Report", "American Countryside", and a full page print ad in Farm Journal magazine.
To visit the online auction yourself, go to:
https://www.machinerypete.com/
https://www.bigiron.com/
About Machinery Pete LLC
MachineryPete.com is the fastest growing marketplace for buyers and sellers of used farm equipment offering farmers a vast selection of equipment listings in one place with innovative search tools that make it easy and fast to find relevant equipment.
Founded in 1989 by Greg Peterson, Machinery Pete has come a long way since its beginnings in Greg Peterson's home office in Rochester, Minnesota where he passionately researched, tracked and reported on auction prices. In 2014 Farm Journal and Machinery Pete partnered to provide a more efficient marketplace for buying and selling used ag equipment.
In July of 2015, MachineryPete.com launched its marketplace with leading edge marketing solutions for dealers, informed and built with the online equipment shopper in mind and creates meaningful connections between buyers and sellers. The company is headquartered in Chicago, IL.
About BigIron Auctions
For 35 years, BigIron Auctions has teamed up with farmers and dealers in North America, providing the best auction experience. The online platform was launched in 2009 and has quickly grown to become the premier unreserved online auction serving rural America. With BigIron, sellers enjoy a full-service experience, including quality listings, collection of payment, and access to a global audience. Buyers rest assured that all equipment they bid on is lien-free, with no buyer fees added to the final purchase price.