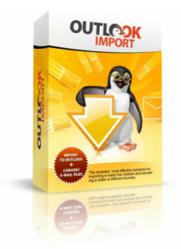 Powerful data import tool.
Sacramento, CA (PRWEB) March 11, 2013
Outlook Import, http://www.outlookimport.com, a renowned developer of efficient and reliable data conversion, migration and recovery tools, announces the release of an updated version of Outlook Import Wizard, a professional solution that greatly facilitates Mac Mail to Outlook migration. The software allows users to import EMLX to Outlook, making Mac Mail to Outlook migration possible in just two easy steps. Email messages in the form of standard EML files can be extracted from Mac Mail .MBOX files using a specialized free tool available from Outlook Import or can be saved in the EMLX format using the standard functionality of Mac Mail. Once done, the user can import EMLX to Outlook with the help of Outlook Import Wizard by enabling a special preprocessing option in the conversion dialog. The only non-automated activity in such a scenario is the physical transfer of EMLX files from a Mac computer to the PC with the destination copy of Microsoft Outlook installed.
Outlook Import Wizard offers an extremely intuitive wizard-driven interface that guides the user though the process and helps import EMLX to Outlook in a semi-automatic batch mode, making conversion mistakes impossible. The program offers a number of conversion options for adjusting the process to the user's needs and flawlessly handles the conversion of extremely large collections of emails from Mac Mail to Outlook. The software is fully compatible with 32- and 64-bit versions of Outlook and supports all major Windows versions, including Windows 8.
"Since Outlook remains the number one email exchange solution in the world, especially in the corporate segment, it's no surprise that so many users are migrating to it from other email applications and even other platforms," explains Atie Uhan, Head of Development at Outlook Import. "We are proud to be offering one of the most functional and convenient tools on the market that really turns this seemingly complex migration task into something that most users can do on their own."