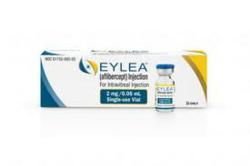 Eylea, a VEGF Eye Trap, offers patients with AMD the same excellent results and safety profile of Lucentis with half as many treatments, at a lower cost.
Hicksville and Hauppauge, NY (PRWEB) November 28, 2011
The Retina Group of New York announced the availability of Eylea, the latest in a series of anti-VEGF medications for all patients with the wet form of age-related macular degeneration (AMD). The safety and effectiveness of Eylea was evaluated in two clinical trials involving 2,412 adult patients with wet AMD. The studies showed that Eylea was as effective as Lucentis in maintaining most vision in 95% of patients and improved vision in over 30% of patients. Eylea was approved by the FDA on November 18, 2011 and is now available to patients for treatment by the Retina Group of New York in their Hicksville and Hauppauge offices.
Macular degeneration is the leading cause of severe visual loss in patients over 65. The macula is the center portion of the retina and is used for straight-ahead vision. It is the only part of the retina capable of providing the fine vision necessary for reading and detailed work. The macula is subject to many conditions, and most of these cause symptoms of difficulty reading, distortion or blind spots. Macular degeneration is an age-related condition occurring almost exclusively in seniors and there is a dry form and a wet form. The more common dry form causes pigmentation of the macula, similar to aging spots on the skin, is slowly progressive, and accounts for only about 15% of severe central visual loss. It can be slowed with fish oil, Vitamins C, E, zinc, lutein and xanthine contained in green and colored vegetables. The wet or exudative form of macular degeneration is less common but accounts for about 85% of visual loss and is the leading cause of blindness in seniors. This form results when abnormal blood vessels growing under the retina start leaking. Without treatment, these leaking blood vessels almost always cause scarring with irreversible central visual loss but not total blindness.
According to James M. Maisel, Chairman of the Retina Group of New York, "Eylea, a VEGF Eye Trap, offers patients with AMD the same excellent results and safety profile of Lucentis with half as many treatments, at a lower cost. In addition, many retinal specialists do not adhere to the monthly treatment recommendations that yield the best visual results with Avastin and Lucentis. Compliance with treatment regimens may be logistically easier and yield better outcomes for patients with Eylea treatment at two month intervals than for patients who receive Lucentis or Avastin at greater than monthly intervals. Treatment at regular recommended intervals may suppress abnormal blood vessel growth under the retina that can continue to grow with prolonged treatment intervals currently employed by many retinal specialists. Treating the abnormal blood vessels to prevent growth as determined with an angiogram and computer imaging has been proven to yield better results than treating when there is a leak with retinal swelling, detected by precise laser imaging. Once these abnormal blood vessels are established, they may bleed with irreversible visual loss and this may occur more frequently when doctors try extending treatment intervals. Although we have not had any contamination issues from our supplier with the off-label drug Avastin that also proves effective for exudative age-related macular degeneration, the single dose unit of Eylea also minimizes the risk of contamination. While Avastin is much less expensive at $50 per treatment, we believe that all three of these drugs and the treatments will continue to be covered by most insurance plans."
Rodney P. Coe, M.D., another retinal specialist with the Retina Group of New York, states that "Eylea is an important treatment option for exudative age-related macular degeneration. It is effective in trapping the VEGF molecule that has been implicated to cause vision loss not only in AMD, but should also prove to be effective for other serious eye conditions such as diabetic retinopathy and strokes in eye (branch retinal vein occlusion, central retinal vein occlusion). We now have several such drugs that are proven to be safe for use in the eye and suitable for off-label use until approved for other potentially blinding conditions such as diabetic retinopathy and vein occlusions. Because they work by different mechanisms, we can tailor treatment and even combine them to achieve maximum response."
About The Retina Group of New York
The Retina Group of New York is composed of Board Certified Ophthalmologists with additional subspecialty training in vitreous and retinal surgery and medical retinal diagnosis and treatment. The group provides eye care for patients with retinal problems such as diabetic retinopathy, macular degeneration, retinal vascular disease, retinal detachments, vitreoretinal interface disorders, surgical complications, uveitis and second opinions.
The Retina Group of New York has provided tertiary vitreoretinal care to patients in Nassau and Suffolk Counties since 1986 at its offices in Hicksville and Hauppauge. Both locations are fully equipped with in-office laser capabilities, cutting edge diagnostic imaging, and integrated electronic records. The group holds staff privileges at seven area hospitals and teaching appointments at the Hofstra North Shore-LIJ School of Medicine, North Shore University Hospital, and Nassau University Medical Center.
Dr. Maisel, founder of the Retina Group of New York, is a Board Certified ophthalmologist who completed his fellowship in vitreous and retinal surgery at New York Presbyterian Hospital-Cornell Medical Center. He was a Corporate Advisory Board member for the Foundation of the American Academy of Ophthalmology (AAO) and the Juvenile Diabetes Foundation Medical Advisory Board. He was also a member of the AAO Instrument and Device and Low Vision Committees and has received research grants from the U.S. Public Health Service and the National Institute of Health. Dr. Maisel represented the National Society to Prevent Blindness at the ANSI Z-80 committee where he helped establish many ophthalmic industry standards. He served as an editor of EyeCare Technology Magazine, authored numerous professional journal articles, and lectures nationally on retina, medical informatics and practice management topics. Dr. Maisel is also the chairman of ZyDoc Medical Transcription, a medical informatics company. In addition, he has been a clinical investigator, consultant, educator, or advisory board member for Pfizer, Novartis, EyeTech, TopCon, Genentech, Alimera, and Allergan.
A Board Certified Ophthalmologist, Rodney P. Coe, MD, MS is a native New Yorker who grew up in a family of physicians in Brooklyn, NY. He attended the prestigious Regis High School in Manhattan, where he graduated with Honors. Driven by a strong interest in the sciences and technology, he went to Boston College and graduated in the Honors Program, with a major in Biology and a minor in Computer Science. Further integrating his interests, he received a Master of Science in Computers in Biological Research from New York University. His academic and personal interests led him to the field of Medicine, and he was granted the Excellence in Ophthalmology Award while in medical school. It was natural for Dr. Coe to be drawn to the specialty of Vitreoretinal Disease and Surgery, a field that is constantly at the cutting edge of technology. He has presented his research in Ophthalmology on a national level. Dr. Coe has extensive expertise in the most advanced diagnostic and treatment modalities for the medical and surgical treatment of diseases of the retina, macula, and vitreous. Dr. Coe's educational background includes: Vitreoretinal Fellowship, University of Pittsburgh Medical Center (UPMC); Residency in Ophthalmology, SUNY Downstate Medical Center; Internship in Internal Medicine, Pennsylvania Hospital; and Doctor of Medicine, SUNY Downstate College of Medicine.
© 2011 James M. Maisel MD
###