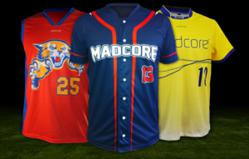 "Through every stage of developing our online uniform builder we made usability our focus. That's what sets Madcore.com apart from the crowd." Peter George, cofounder and Managing Director
(PRWEB) March 06, 2013
Madcore.com offers a simple way to create custom sports uniforms online. Users can select from a wide range of jersey types and follow the intuitive step by step process to add team logos, a team name, numbers, player names, and more. The online designer has a wide selection of fonts and colors and provides a preview of the design instantly to the user. The online uniform builder can be accessed at http://www.madcore.com.
Users can checkout online using the secure shopping cart. Completed designs are printed using the best materials and technology and shipped free of charge to the customer, usually within 5-7 business days.
Watch a 90 second video of the online design process here:
http://www.youtube.com/watch?v=UBauZrHUu7M
"Existing online design tools were slow and not very easy to use. Through every stage of developing our online uniform builder we made usability our focus. That's what sets Madcore.com apart from the crowd." Says Peter George, cofounder and managing director. "It's also an incredible feeling to hand out a set of new uniforms to the team and see the enjoyment and pride that everyone shares."
Covering a wide range of sports, including basketball, baseball, football, soccer, and more, and with pricing from as low as $14.95 Madcore offers something for everyone - competitive athletes, social sports enthusiasts, fans and coaches.
Madcore is growing rapidly and has just launched its online uniform designer in the United States with plans to expand its offering to Canada in the near future. Development of their next generation design system is also well underway and is due for release early next year.
About Madcore.com
Fueled by a passion for sports and the knowledge of the sense of pride and team spirit that comes from a great uniform, Madcore Sportswear was founded in 2007 in Brisbane Australia. Since it's launch Madcore has provided more than 50,000 custom uniforms.
http://www.madcore.com