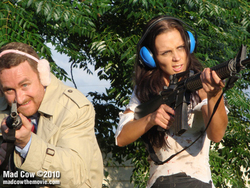 It's not just the cow that's MAD…
San Francisco, CA (PRWEB) April 12, 2010
Mad Cow, the much anticipated horror comedy film, starring Tanya Van Graan - voted FHM's sexiest woman 2007- will premier at the 2010 Cannes Film Festival on May 17th, 2010 at 3:30 PM (Palais F)
Mad Cow is the fast-paced, crazy comedy/horror movie (with the accent on the comedy) from Funny How Films that dares to go where Naked Gun, Scary Movie and Shaun of the Dead feared to tread.
The film sets out to spoof the zombie/horror movie genre in a new and totally insane way, following the story of a Frankenstein-like experiment that goes horribly wrong, with hilarious results. Wielding a chainsaw, Mad Cow goes on the rampage around a South African Game Lodge, leaving a trail of destruction and bad special effects in his wake.
Enter undercover cop Vince Chopper, who together with vegetarian-waitress–turned-weapons expert, Charlize, does battle with Mad Cow in a series of off-the-wall action-packed sequences. Prepare yourself for the unlikely twists and turns along the way, as it's never over when you think it's over….
Mad Cow was 'born' at Cannes 2009 where UK writer/director Michael Wright (Dark Side, Boulevard Noir) and South African producer/director Michael J. Rix (Tengers, The Game of My Life) struck the deal with producers Jason Rogan and Doug Marschke to make the one of a kind horror/comedy and bring it back to Cannes 2010 under the banner Funny How Films.
"We loved the Mad Cow concept and knew we wanted to do this film. Mad cow is the perfect film for Cannes because, in addition to being wildly entertaining, it reminds us all that underneath the hilariously funny lies something perverted and deranged," says Rogan.
Mad Cow has its world premiere at Cannes on 17th May 2010.
###