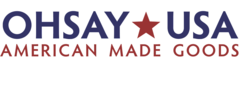 It's time we restore our own pride in the place we live and actively help each other get jobs.It's up to retailers to share the burden of costs with the manufacturers.
Austin, TX (PRWEB) June 14, 2012
Today OHSAY USA launched a new Made in the USA online store to provide Americans a central source to buy quality US made goods from inventors, designers and companies who have been around since the turn of the century.
Every 24 to 72 hours, the store highlights one featured item that is discounted 10% to 70% off retail prices. In addition, OHSAYUSA.COM offers an initial 250 hand picked items that meet the high quality standards that Americans demand for products.
Sherry Holdridge, the founder of the company, was inspired to take an active role in job creation and offer American-made products at reasonable prices after discovering it was impossible to easily find and buy products Made in the USA at a single store. After six months of speaking to companies across the United States and learning their histories, she selected only the best in the USA for http://www.ohsayusa.com.
The store will add new products weekly and expand its product descriptions to include in-depth histories of each manufacturer featured through stories, photos and video profiles.
Rethinking Made in the USA
OHSAY USA is rethinking how consumers associate US made products with their purchase decisions.
In an Adweek Media/Harris Poll, six out of ten respondents said that a Made in the USA label would make them more likely to buy a product and 65% of the affluent market actively seeks Made in the USA products. This behavior has trended up for the last 2 years.
Quality is the primary reason for the growing trend in buying US made products. Additional reasons cited include job creation, health concerns and returning to our roots by supporting historic American companies such as Levi Strauss and Chrysler.
Manufacturers have begun bringing their operations back to the US due to the rise in labor and shipping costs overseas. 37% of all US-based manufacturing executives either plan to or are actively moving production from overseas according to the Boston Consulting Group. Additionally, the pricing gap between US made products and their counterparts that are manufactured abroad have narrowed, especially when the lifetime value of the product is considered.
The US was once the world leader in manufacturing quality consumer goods and it was on American soil where the assembly line method of manufacturing became the world standard. Economic changes occurred as the companies were pressured to reduce costs to achieve greater investor profits. As such, American manufacturers were left with few choices but to outsource. This trend resulted in an acceptance of cheap products of inferior quality that are easily discarded and repurchased.
OHSAY USA Founder and CEO Sherry Holdridge said, "It's time we restore our own pride in the place we live and actively help each other get jobs."
"It's up to retailers to share the burden of costs with the manufacturers. Large department stores have pressured manufacturers to reduce costs but have taken little part in narrowing their own profit margins to encourage a shift in the buying behavior in the United States. It's time to change."
By rethinking the sales approach, OHSAY USA anticipates that both local craftsmen and major manufacturers will be able to grow their businesses and employ more workers, that in turn will have a direct result of growing our economy.
About OHSAY USA
OHSAY USA's mission is to stimulate job growth and renew a sense of pride and opportunity in the place we live. We provide Americans with high quality US made goods in a single location available at 10% to 70% off of retail prices. OHSAY USA is a privately held company based in Austin, Texas.
For more information, go to http://www.ohsayusa.com
Contact:
Sherry Holdridge
512-736-4001
sherryholdridge(at)ohsayusa(dot)com