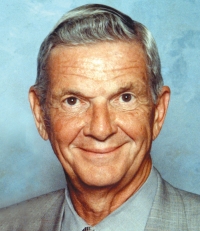 (PRWEB) June 10, 2013
MAEDC is accepting nominations for the Bob Ady Scholarship now through September 1, 2013. The scholarship will be awarded to an economic development professional no later than October 1, 2013 and covers the registration for the Competitiveness Conference & Site Selector Forum to be held December 8-10, 2013 in Chicago, Illinois.
The scholarship program is named in memory of Bob Ady, an economic development enthusiast out of Chicago, Illinois who passed away in July 2012. One of Ady's many accomplishments is co-founding World Business Chicago, a regional EDO focused on economic development and bringing global businesses to the Chicago area.
"Bob did a great job pulling together information for Chicago and the area that really hadn't existed before," said longtime colleague Tom Bartkoski, Director of International Business Development, World Business Chicago.
For the last decade, he worked with his daughter Janet Ady, president/CEO of Ady Voltedge, a Madison, Wisconsin economic development consultancy, and also a member of the MAEDC.
"My dad was a visionary. He had a good grasp of where things could go and he was adept at seeing his vision through to fruition," said Janet Ady during the Site Selectors Guild Annual Meeting in February in New Orleans, "This was best demonstrated in the field of site location where he pulled together what is now well known as the Site Selectors Guild."
"He would want the economic development industry and site selectors to do nothing short of changing the way it's always been done, charting new paths, and creating its own future," continued Janet, "I am proud to see his legacy continued with the MAEDC scholarship program in his name."
MAEDC's mission statement explains, "MAEDC members are dedicated economic development professionals who share best practices to make you more valuable to your organization." Its goal for the Bob Ady Scholarship Program is to help new economic professionals to develop their skills.
The scholarship is available to MAEDC members and non-members. Nominees who are new to the field will be given preference. Applicants will be assessed based on their interest in economic development as well as their interest in the MAEDC.
The scholarship covers registration to the 2013 Competitiveness Conference & Site Selector Forum. The Competitiveness Conference, hosted by the MAEDC, is an opportunity for economic development education, networking, and face time with site selectors from across the country. At the conference, economic development professionals will be able to connect with site selectors, learn from experienced practitioners, and attend sessions on economic development most relevant to Midwest communities, large and small.
The MAEDC board will notify the winner by October 1, 2013. Economic professionals who are nominated but not selected for scholarship funds are eligible to be nominated the following year.
To nominate or apply for the Bob Ady Scholarship, please visit http://www.formstack.com/forms/?1410203-kUmM0V9IZD. Applications are accepted until September 1, 2013. A tribute video honoring Bob Ady's life was created by Andy Shapiro and shown at the Site Selectors Guild meeting in February 2013. The video can be viewed at http://adyvoltedge.com/bob_ady_tribute.php.
____________________________________________________________________
ABOUT ADY VOLTEDGE:
The main focus of Ady Voltedge is to help economic development organizations attract and grow business investment. The firm also provides a full suite of location strategy and site selection services to corporate clients to select locations that enhance operational competitiveness. Ady Voltedge's clients include economic development organizations (EDOs), utilities, state agencies and private companies. Learn more: http://www.adyvoltedge.com. @adyvoltedge on Twitter and on LinkedIn http://www.linkedin.com/company/ady-voltedge.
ABOUT MID-AMERICA ECONOMIC DEVELOPMENT COUNCIL(MAEDC)
The MAEDC is a multi-state association serving ten Midwest states including North Dakota, South Dakota, Wisconsin, Illinois, Iowa, Minnesota, Michigan, Nebraska and Indiana with their main offices in Columbus, Ohio.
MAEDC members are dedicated economic development professionals who share best practices. MAEDC is the best resource for making contact with site selectors, advancing regional economic development programs and accessing thought leadership. Learn more: http://www.maedc.net/.