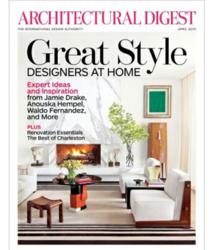 The Architectural Digest advertiser is focused on quality, not quantity. They are savvy enough to know that print delivers a captive audience and targeted demographics in a way that allows for effective branding and calculable results. ~ Giulio Capua
Minneapolis, MN (PRWEB) March 28, 2013
Magazine readers will find that several publishers have increased the number of ad pages to view this March, according to a recent Ad Age announcement. This comes in contrast to the recent Pew Research results found in The State Of The News Media in 2013. While news media numbers have lowered over all, pockets in the home design industry and the burgeoning women's fashion and beauty sectors are reporting increases in ad spending.
"Successful business marketing incorporates as many integrated media channels as possible to reach as far as possible to targeted consumer audiences; print's place is being underscored rather than diminished. Consumers are not about to miss their moments of reveling in the glory of the printed page. I is important to reach them. Daring to increase ad spending and placements is proving to create steady revenue flow and dependable retail sales. It all happens because new customers are being reached," says Eric Sims of Integral Media.
April 2012 issue of the Architectural Digest's wasn't shy on advertising pages; rather, its advertising pages were up 47 percent in one year, and jumped 23 percent in ad pages in the Q1 of 2012 when compared to Q1 of 2011.
Growing their reputation in over 92 years in print, the Architectural Digest has been out-performing all expectations lately. While some trim their ad spending, thinking that trimmed budgets will balance spending versus income, the Architectural Digest has found the opposite works. By giving priority to more ad pages in their magazine, they are out-preforming year over year.
"The Architectural Digest advertiser is focused on quality, not quantity. They are savvy enough to know that print delivers a captive audience and targeted demographics in a way that allows for effective branding and calculable results," said Giulio Capua, vice president and publisher of Architectural Digest New York as noted in Luxury Daily.
Here is Architectural Digest track record of increasing ad pages as Integral Media found reported in Ad Ages's October 12, 2012 article titled "Ad Age's Magazine A-List":

Increasing ad pages 5.7% in 2010
9.1% in 2011
11.3% in its 2012 issues through October
While Architectural Digest and Elle Decor are showing more recent declines, House Beautiful and Coastal Living are two magazines in the home design industry that are reported by Ad Age as having increased ad pages for April 2013.
Magazine readers will find additional publishers have increased ad page numbers for viewing this March, according to a recent Ad Age article boasting that magazines are dawning a more optimistic marketing approach this spring. Ad pages in Architectural Digest through April 2013 declined. For example:
Conde Nast, publisher of Glamour and GQ magazines, reported a cumulative uptick in March ad pages of 3% compared with last year.
Vogue magazine, the company flagship, led all fashion magazines with 457 ad pages.
Hearst, the publisher of titles such as Cosmopolitan and Elle, saw March ad pages increase 6.7%,
Ad pages at monthly magazines published by Time Inc. are up to keep pace. InStyle increased to 361 total ad pages in its March edition, a 4% uptick, while People StyleWatch ran 173 ad pages, which translates to a 28% gain in ad spending.
While Marketers have observed recent industry headwinds for print in the view of expanding digital mediums, the effectiveness of magazine advertisements is indisputable. "We know consumers still like the experience of going through the pages of a magazine and not only looking at the content, but also looking at the ads, said Brenda White, senior VP-publishing activation director at Starcom USA"
"While some think that trimming their marketing budget will save cost; others are increasing spending allotments for effective magazine advertisements and gaining more revenue per dollar spent in the long run," comments Sims. April's Architectural Digest issue continues a notable trend in the number of advertisements that include mobile calls to action and QR codes. More luxury brands are using print as an important medium to introduce their digital advertisements as well.
The Pew Research study stated that early one-third, or 31% of consumers surveyed said they have left off reading a news media provider because it no longer offered the level of news and information they had grown accustomed to. The survey of over 2,000 U.S. adults from early 2013 indicated "those most likely to have walked away are better educated, wealthier and older than those who did not—in other words, they are people who tend to be most prone to consume and pay for news". The study correlates the changes to slashed staffs and reduced media coverage.
"It takes a clear vision to spend more at a moment when budgets are tighter; however, wise ad spending pays off," summarizes Integral Media.
Since 1999, Integral Media has delivered efficient, smart media solutions through creative media consulting services. Call 952-470-5254 for comprehensive integrated media buyers where every dollar invested in ad spending has proven results.