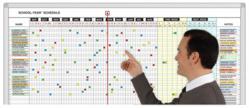 School principal's tell us this board helps them coordinate Teacher Observation activity.
Macedon, NY (Vocus/PRWEB) April 05, 2011
School administrators use Magnatag's new Teacher Observation Schedule magnetic whiteboards to help plan and manage the systematic observation of classroom procedures. A St. Louis Mo. High School principal told us, "The board is extremely helpful. It saves us time in our weekly administrative meetings by visually summarizing our teacher observation activity and objectives in one place. We used to keep our own walk-through binders but they didn't let us share information as easily as the board does. We color-code the teacher magnets by department then rotate observation assignments through the administrative team so each of us takes a turn. The circle signal magnets show the type of observation."
"School principal's tell us this board helps them coordinate Teacher Observation activity," says Magnatag spokesman Christian Krapf, "We include magnetic cardholders in 5 colors, card inserts in 10 colors (with PC card-keying template), magnet signals for color-coding teacher names, observation assignments and observation types along with a complete set of whiteboard write on maintenance tools, everything needed to operate the board. It also includes built-in T-card file slot for each teacher to hold a concealed observation record. A pull-down privacy screen is optional."
Built for a lifetime of daily use Magnatag's Teacher Observation magnetic steel Scheduling whiteboard are heat-fused printed and offered in kits online in 4 sizes: up to 148 teachers per board. For full details go to http://www.magnatag.com/OBSERVE or call 800 624 4154 and talk to a visible systems specialist.
About Magnatag® Visible Systems: a division of W.A. Krapf, Inc., they design, manufacture and direct-market over 2,300 magnetic printed steel task-specific and all-purpose whiteboard scheduling kits including calendars, maps, custom printed whiteboards, a full line of magnets and accessories (many patented) and other information display systems for industry, hospitals, schools, business, organizations and government. Their 45th year, a family company http://www.magnatag.com.
Hi-res Images:

Contact:
Doug Weeks
Magnatag Marketing Group
800-624-4154
dougw(at)magnatag(dot)com
# # #