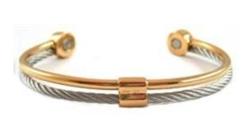 (PRWEB) March 21, 2013
As Coco Chanel once famously said, "Fashion fades, only style remains the same." With this in mind, online jewelry retailer, BillytheTree is happy to present a new line of stainless steel magnetic bracelets to embolden the style of the visually conscious.
Already, the stainless steel models are some of the top sellers on the site. So, what better way to please their customers than to expand the styles of a company favorite? Not only are they popular, but the magnets are incredibly strong, and are kept at very affordable price.
Magnetic therapy is safe, non-invasive, and non-addictive. It is currently used by millions of people around the world, including professional athletes – such as professional golfers.
Most users of magnetic therapy jewelry wear their magnetic bracelets 24/7, and they are thrilled with the strong magnets and the many compliments they receive from their friends and family – which is also why it is so commonly used by athletes, whether it's in their wrists or knees, or other key areas.
Whether a person is interested in the fashion, or the claimed benefits of magnetism, there is a style and design for the most discriminating of tastes.
About BillyTheTree.com
Founded in 2004 by Robin Weber when he was still a senior in high school, BillyTheTree.com offers a large variety of affordable, yet high quality jewelry, watches and sunglasses. The company offers free worldwide shipping on these product lines, which include almost 12,000 items, consisting of magnetic jewelry, sterling silver jewelry, jade jewelry, high performance sport sunglasses, and more. For more information or to place an order, please visit: http://www.billythetree.com