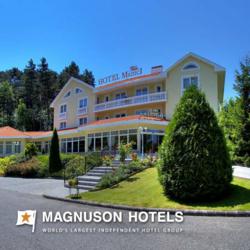 Veszprém, Hungary (PRWEB UK) 16 March 2012
Magnuson Hotels, the world's largest independent hotel group, announced today their expansion into Hungary with the addition of the Villa Medici Hotel and Restaurant in Veszprém, a superb tourist destination approximately 15 km (9 mi) north of the Lake Balaton.
"Magnuson Hotels is proud to welcome Gabor Nagy and the Villa Medici Hotel and Restaurant to the Magnuson Hotels affiliation. Our entire global organization is committed to increasing this hotels' worldwide visibility rapidly," stated Magnuson Hotels CEO Thomas Magnuson.
Villa Medici Hotel and Restaurant offers guests an Island of tranquility at the heart of the picturesque Betekints Valley. Surrounded by majestic scenery, the hotel welcomes travelers with cozy rooms and amenities that make for a memorable stay. Hotel Manager, Gabor Nagy, had this to offer concerning the hotel's news:
"We are proud to join Magnuson Hotels, and wish to especially thank CEO Thomas Magnuson for his great ideas, and initiative. We are glad to have found Magnuson Hotels, providers of unique marketing and distribution solutions for independent hotels, and now, our backers in efforts to gain more visibility and more bookings for the hotel. I also agree with the mission of Magnuson's upcoming Global Hotel Exchange (GHX) to make hotel searches simple, fast and fun. We feel it's also an important mission to shake up the high-stakes hotel booking world, and we look forward to working with GHX!"
There are 20 standard rooms, in the hotel, as well as 4 superior double bedrooms, and 2 apartments, all equipped with shower booth, air conditioner, telephone, television, mini bar, hair dryer and internet connection, both wired and wireless. Guests enjoy complimentary breakfast served daily, and hotel amenities available just for them: indoor pool and wellness center offering a range of special spa and massage packages at very affordable prices.
Superlative culinary experiences at the hotel's own restaurants complete the offer. Guests will find refined gastronomical creations at Villa Medici Restaurant, specializing in Hungarian contemporary cuisine; or rural atmosphere and timeless Hungarian classics at the Nosztalgia Restaurant. Villa Medici Restaurant is one of the best restaurants in Hungary, member of the Chaine des Rotisseurs and recommended by the Michelin Bib Gourmand guide. The hotel's wine cellar is stocked with the best Balaton and Hungarian wines, as well as international labels. Last but not least, Wellington Pub, the hotel's homage to English culture and lifestyle, is always a welcoming retreat.
About Magnuson Hotels:
In only nine years, Magnuson Hotels has become the world's largest independent hotel group, representing nearly 2,000 world hotels with assets in excess of $5.5 Billion. One of the top 8 global hotel chains, Magnuson Hotels is the #1 Hotel Company of Inc. Magazine's 5,000 fastest growing private U.S. companies. For more information visit magnusonhotels.com, Magnuson Hotels on Facebook, and Google+, or follow Magnuson Hotels on Twitter @MagnusonHotels.