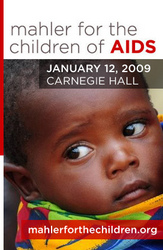 Mahler's magisterial Third Symphony speaks with a sternness and immediacy to the global community to act responsibly today. Tomorrow will be too late for too many.
New York, NY (Vocus) December 18, 2008
Who: Conductor George Mathew | Mezzo-soprano Susanne Mentzer | Concertmaster Glenn Dicterow | Posthornist Matthew Muckey | Trombonist Joseph Alessi
When: 8:00 p.m. | Monday January 12, 2009
Where: Isaac Stern Auditorium | Carnegie Hall | New York, NY
Program: Gustav Mahler: Symphony No. 3 in D Minor
Press Tickets: Laura Malick, 917.339.7183, lmalick(at)cohndutcher.com
A benefit concert featuring Gustav Mahler's monumental Third Symphony will be held at 8:00pm on Monday, January 12, 2009 in Isaac Stern Auditorium/ Perelman Stage at Carnegie Hall. The performance, organized and led by conductor George Mathew, will feature some of the finest orchestral musicians from every continent, which include principal artists from:

The New York Philharmonic
The MET Orchestra
The Philadelphia Orchestra
Orchestra of St. Luke's
Minnesota Orchestra
Brooklyn Philharmonic
Emerson String Quartet
Accompanied by students, graduates and faculty of The Juilliard School and the Manhattan School of Music and other major international orchestras and ensembles.
Serving as concertmaster is Glenn Dicterow, concertmaster of the New York Philharmonic, and featured soloists include mezzo-soprano Susanne Mentzer, trombonist Joseph Alessi, and posthornist Matthew Muckey. The concert program also includes the Women of The Dessoff Symphonic Choir, Cathedral Choristers of The Cathedral Church of St. John the Divine, and the Children's Choir of St. Ignatius Loyola.
Mahler for the Children of AIDS is presented by Catholic Medical Mission Board, a leader in the global HIV/AIDS and humanitarian health care arena. The concert will raise funds and public awareness for global pediatric AIDS and the Prevention-of-Mother-To-Child Transmission (PMTCT) of HIV. The evening will serve as a memorial for the millions of mothers and children who have lost their lives, a tribute to the resilience of the survivors, and an urgent call for help to the global community.
According to George Mathew, Artistic Director and Conductor, "Mahler's magisterial Third Symphony speaks with a sternness and immediacy to the global community to act responsibly today. Tomorrow will be too late for too many."
Mahler for the Children of AIDS is third in a series of global humanitarian concerts that George Mathew has conceived and presented at Carnegie Hall, gathering together artists from the world's finest orchestras, ensembles and music schools for humanitarian causes while employing the music itself as their central source of energy.
About the Beneficiary
Catholic Medical Mission Board (CMMB)
Founded in 1928, CMMB (Catholic Medical Mission Board) works collaboratively to provide quality healthcare programs and services without discrimination to people in need around the world. CMMB serves as the fiscal sponsor for the concert. As the United States' leading faith-based charitable organization focused exclusively on global healthcare, CMMB collaborates with partners to support healthcare projects in resource-poor countries that address HIV and AIDS, child health and neglected diseases. CMMB represents an unmatched capability by combining its on-the-ground programs, medical volunteers, and medical donations efforts in an integrated way.
Children have been at the core of CMMB's work since it launched its first HIV and AIDS program, Choose to Care, in 2000. With a second HIV and AIDS initiative, Born to Live, the chief focus is prevention of transmission of the AIDS virus from the pregnant mother to her unborn child. Choose to Care worked with more than 140 community-based organizations in South Africa, Botswana, Namibia, Lesotho and Swaziland, providing palliative and orphan care. Since its inception, in 2001 in Kenya and South Africa, Born to Live, has successfully tested more than 65,000 pregnant women and administered antiretroviral therapy to thousands of mothers and infants.
Ways to Get Involved:
Purchase tickets to the concert: http://www.mahlerforthechildren.org/tickets.shtml
Can't attend? Consider a donation to help pediatric and maternal HIV/AIDS: http://support.cmmb.org/mahler
Share the event with your friends via Facebook: http://www.facebook.com/event.php?eid=36098791770
For more information about the concert and ways to get involved, contact: mgalbraith(at)cmmb.org or 212.609.2572
Sponsorship opportunities from $2,500-$50,000 are available. Contact mahler(at)cmmb.org or 212.609.2572 to learn more.
For Press Tickets Contact:
Laura Malick, Cohn Dutcher Associates
917-339-7183
lmalick(at)cohndutcher.com
Contacts:
Lois Cohn, 917.339.7187, lcohn(at)cohndutcher.com
Dan Dutcher, 917.339.7157, ddutcher(at)cohndutcher.com
Laura Malick, 917.339.7183, lmalick(at)cohndutcher.com
###