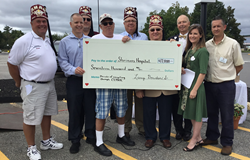 "By donating $17K in bottle redemption funds to Shriners Hospitals for Children, Larry has made a significant, tangible difference in the lives of many children. He has inspired us all to make a positive change as well." -Alison Vanderhoof, CLYNK President and CEO
SOUTH PORTLAND, Maine (PRWEB) October 18, 2018
On September 19, 2018, Larry Bowden of Saco, Maine donated his entire CLYNK bottle redemption balance to the Shriners Hospitals for Children Springfield during an event at Hannaford Supermarket Maine Mall. Larry had been collecting redeemable containers since 2006, and he recycled over 340,000 bottles and cans through CLYNK, earning a total of $17,000—all of which was generously presented to the Shriners in the form of a check.
Larry Bowden has been redeeming containers with CLYNK since the company first opened for business over a decade ago. Larry, together with his good friend and Kora Shriner, the late Leo Verrill, collected can tabs for neighboring schools. Years in, they realized that they could raise even more by redeeming containers. The operation was simple at first; Larry gathered any loose recyclables he spotted in his neighborhood or around his place of work. Eventually, after gaining some notoriety, he began to receive donations from supporters across Maine who heard of his mission.
Hannaford Supermarkets, CLYNK, and Shriners from Maine, New York, and Massachusetts honored Larry with a special event showcasing his humbling generosity, praising his years-long dedication to a noble charity. CLYNK President and CEO, Alison Vanderhoof, extended her gratitude to Larry through her speech, addressing event attendees.
"By donating to Shriners Hospitals for Children, Larry has made a significant, tangible difference in the lives of many children, and we thought that was worthy of a little fanfare," Alison said. "In addition, he has inspired us all to make a positive change as well."
In the spirit of Larry Bowden's generous donation, CLYNK and Hannaford Supermarkets teamed up in its Cans for Kids campaign, which raised over $7,700 to match donations to the Shriners Hospital for Children Springfield.
"We are so grateful to Larry Bowden and all our friends who participate by recycling through CLYNK in support of Shriners Hospitals for Children. Their gifts have made a tremendous impact on the lives of the children and families entrusted to our care. It is this type of generosity that enables the hospital to provide care to every patient, regardless of their ability to pay." –Karen Motyka, Director of Donor Development.
# # #
About CLYNK
Founded in 2006, CLYNK is one of the fastest growing bottle redemption services in the country, processing under patented technology, over 900 million containers since inception. With this technology, CLYNK is a true disruptor combining bottle redemption and traffic driving capabilities on behalf of its retail partners. Unlike any other bottle redemption service worldwide, CLYNK offers a convenient and easy bag-drop system at retail that eliminates waiting in line, manual count, material separation, and reduces fraud; all concerns which have historically dampened redemption participation and customer satisfaction. CLYNK is also the only bottle redemption system that allows customers to create a personal account, accumulate a balance and use funds at their discretion (for cash, groceries or electronic donations to local charities). Headquartered in Maine, the company currently operates in Hannaford Supermarkets in Maine and New York and has licensed technology in Iowa, Oregon and New Brunswick, CA. To learn more visit http://www.clynk.com.
About Hannaford Supermarkets
Hannaford Supermarkets, based in Scarborough, Maine, operates 181 stores in the Northeast. Stores are located in Maine, New York, Massachusetts, New Hampshire, and Vermont. Hannaford employs more than 26,000 associates. Additional information can be found at http://www.hannaford.com.
About Shriners Hospitals for Children
Shriners Hospitals for Children is changing lives every day through innovative pediatric specialty care, world-class research, and outstanding medical education. Our health care system provides advanced care for children with orthopedic conditions, burns, spinal cord injuries, and cleft lip and palate. Shriners Hospitals for Children is a 501(c)(3) nonprofit organization and relies on the generosity of donors. All donations are tax-deductible fully permitted by law.