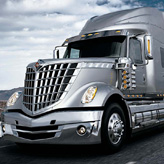 Employers looking to hire a mechanic or related diesel machinery professional have come to rely on Maizis & Miller
Toronto, Ontario (PRWEB) February 02, 2013
Maizis & Miller, the world's only recruiting firm dedicated solely to diesel machinery professionals, is celebrating 25 years of helping mechanics further their career through permanent, full-time opportunities. February 1st officially marks the anniversary, which comes on the heels of a re-launch of the Company's new website, http://www.maizisandmiller.com.
High-tech, highly personable
The recently revamped site features an exclusive focus on career advancement for heavy truck and heavy equipment mechanics. Powered by the Internet's largest single job board for these trades, it's updated daily with diesel mechanic jobs and related opportunities across North America and the world.
As the centrepiece of Maizis & Miller's forward-thinking approach to recruiting, the website helps professionals in these skilled trades manage their career – instant job alerts are deliverable by email or text message, which ensures candidates never miss out on that perfect career opportunity again; resumes and certification can be easily uploaded; and job search and apply histories are available to keep applicants well organized and on track. A detailed career advice section provides practical tips on crafting a successful diesel mechanic resume and networking in today's tech-driven environment.
Maizis & Miller also engages mechanics through its various social media outlets, where new information about diesel mechanic jobs, equipment and news appears daily.
At the same time, the Company's recruiters – an eclectic mix of certified HR professionals and licenced journeyman mechanics – haven't lost the personal touch: Every job posting features the name and direct phone number of a recruiter ready to provide more information, instantly. Before applying, job seekers can also inquire about the position through the question form, located on the bottom of every posting.
Maizis & Miller has also stepped up its effort to give back to the trade through its interactive and educational online resource, MechanicsHub. The first of its kind in the staffing industry, http://www.mechanicshub.com is a community-minded, resource-rich career networking tool for diesel machinery professionals that makes it easy to access the latest news, conversations and job opportunities related to their trade.
Users can help each other work through their toughest challenges in the Forum, keep an eye on the latest heavy duty diesel mechanic jobs in the Job Board, stay current on trade developments in the News section or just relax after a stressful day by exploring the Fun and Games section.
MechanicsHub is currently undergoing a radical redesign and upgrade, and has been slated for a spring 2013 re-release.
A quarter century of connecting talent with opportunity
Defying the trend of outsourcing and downsizing, heavy duty diesel mechanic jobs remain plentiful in North America, where demand for natural resources and the need for skilled tradespeople continue to generate employment opportunities across multiple industries.
Employers looking to hire a mechanic or related diesel machinery professional have come to rely on Maizis & Miller for its consistent ability to attract the kind of talent that takes their organization to the next level. Maizis & Miller clients can take comfort in knowing that they have an industry leading 100 per-cent successful replacement record. Over the past 25 years the Company has worked hard to build strong relationships with employers across North America, always in the name of helping clients to strengthen their team.
Maizis & Miller has also refined its approach to recruiting over that time, embracing a proactive strategy that engages high-quality talent and focuses on the candidate's best interest. This represents a drastic departure from the old, passive approach, and provides the kind of results that most employers couldn't achieve on their own. While a company could post advertisements for heavy duty diesel mechanic jobs or truck mechanic jobs, this method merely reacts to a vacancy and won't engage talented professionals unless they are actively searching for work during that very brief window of opportunity.
For further information:
Ron Maizis, Vice President
Maizis & Miller
Telephone: (416) 479-9226